Exploring Finland via Train and Water
Back in the spring of 2019, I had the opportunity to visit my then fiancée (now wife) in Tampere, Finland. She was living there for a few months working, and I was glad to get the chance to take a week off from work and spend some time with her while exploring the two largest cities.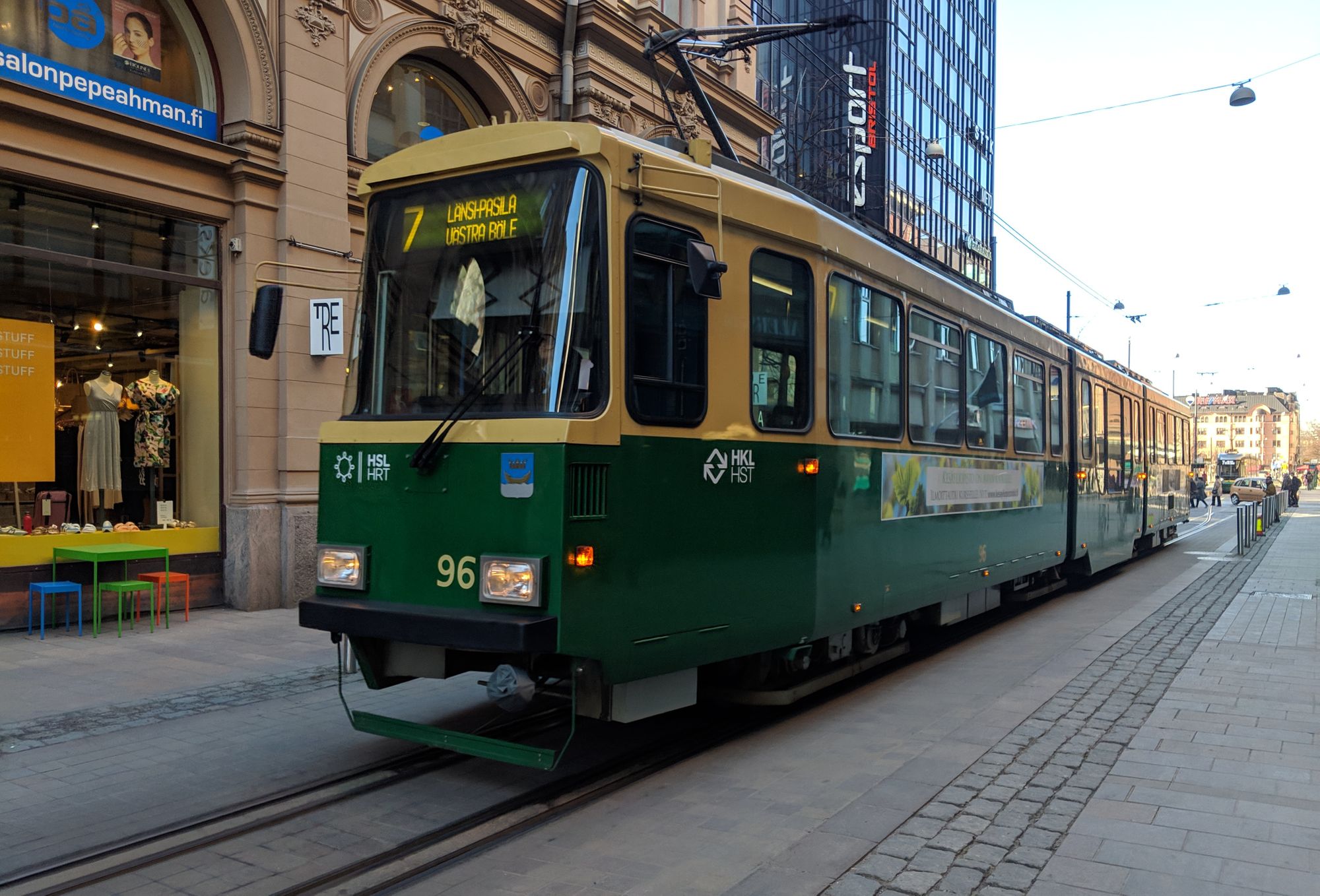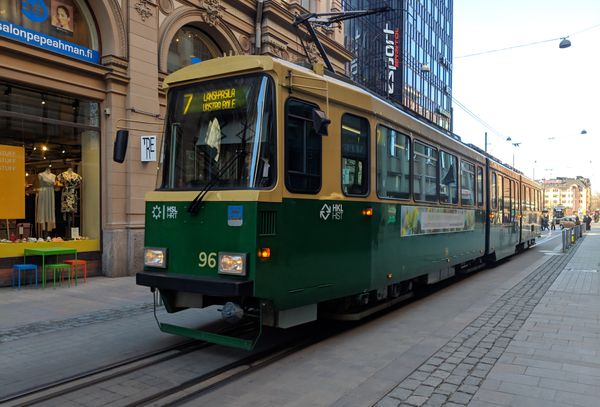 Back in the spring of 2019, I had the opportunity to visit my then fiancée (now wife) in Tampere, Finland. She was living there for a few months working on a research project at the technical university, and I was glad to get the chance to take a week off from work and spend some time with her without the 2-300 millisecond latency of video chat.
While Finland was admittedly not very high up on my bucket list of places to visit, I was pleasantly surprised at how nice a place both Helsinki and Tampere were. Even though I think a typical tourist would run out of major sites to visit within a day or two, both cities were impressively livable in a way that all the positive statistics by themselves can't get across.
Arriving in Helsinki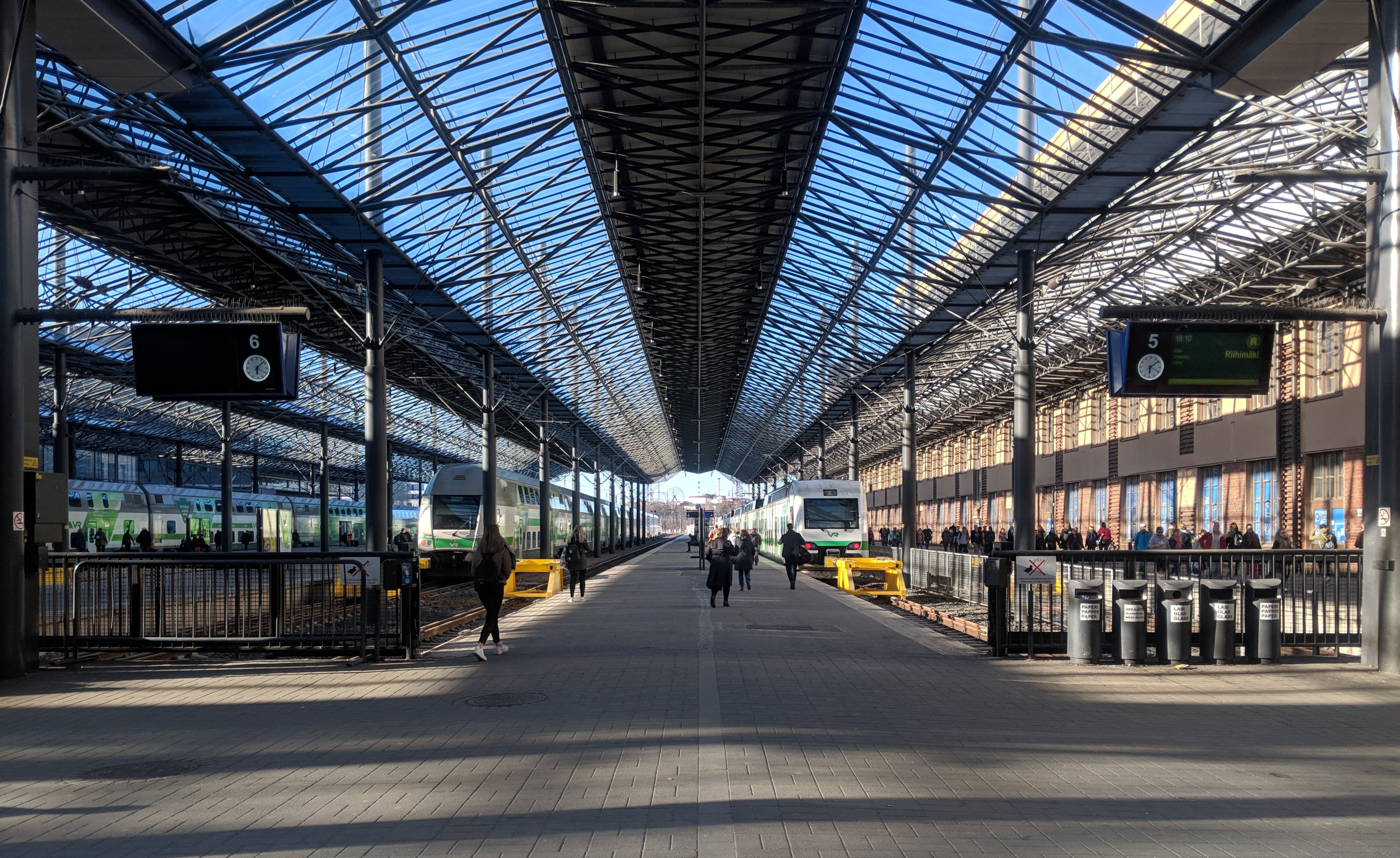 After a flight that I could only describe as "Capitalist Hell" on Finnair (almost anything and everything had an upgrade option, which means the basic service has to be terrible enough you want to upgrade), I needed to make my way to Chrissy in Tampere. Unfortunately, I had not had any chance to charge up my phone since leaving New York, and my phone's USB port had started to break which meant my portable battery bank could not charge it either. From the point at which the plane touched down on the tarmac, I was facing a bit of a ticking clock trying to figure out how to get from the airport to the Tampere train station where I was meeting my wife, 100 miles away.
Based on a misunderstanding, I got on the HSL Ring Line, which goes from the Airport to the central train station, in the wrong direction. I was supposed to grab the express train to Tampere from Tikkurila, and instead ended up going in the "I" direction instead. While there were plenty of wayfinding signs in English, they focused primarily on funneling tourists to the center city. At the central station, Helsingfors, we pulled in on a track far away from the main station, which then meant I was also having trouble finding a place to pay because all the ticket machines there could only print local tickets. After a lot of meandering and some advice from helpful Finns, I managed to jump on the two and a half hour train with 3% battery left and continued on my way towards Tampere.
Exploring Tampere
Tampere is the second largest city in Finland with around 330 thousand people living in the urban area. Once known as a manufacturing city due to the height difference between the two bordering lakes that provided plentiful power, the presence of four different universities (now two after three of them merged) and a technology center have helped it become a tech hub.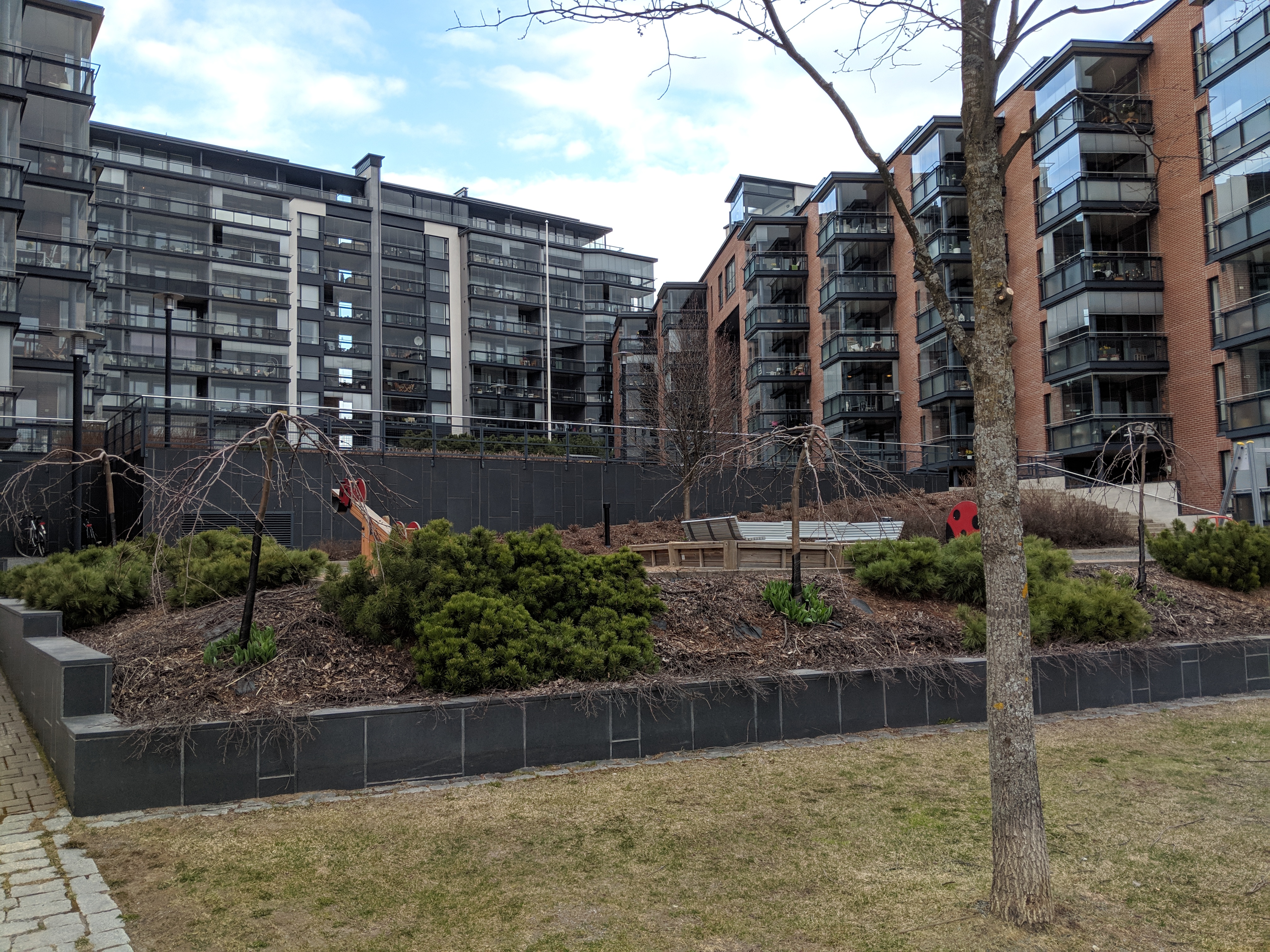 Like many smaller European cities with a lot of development in the late 1900s, cars were definitely around (albeit small), and many of the large apartment buildings had multistory parking lots next to them. Despite that, minimal setback requirements meant the downtown streetscape didn't feel like it had empty gaps the way cities with stricter parking requirements often do. On top of that, the two photos below show that bikes were certainly a part of the planning too, with smooth cobblestone delineating areas for pedestrians and asphalt for bikes. The bike roundabout was very cool to see as well, even if I was dubious of its effectiveness.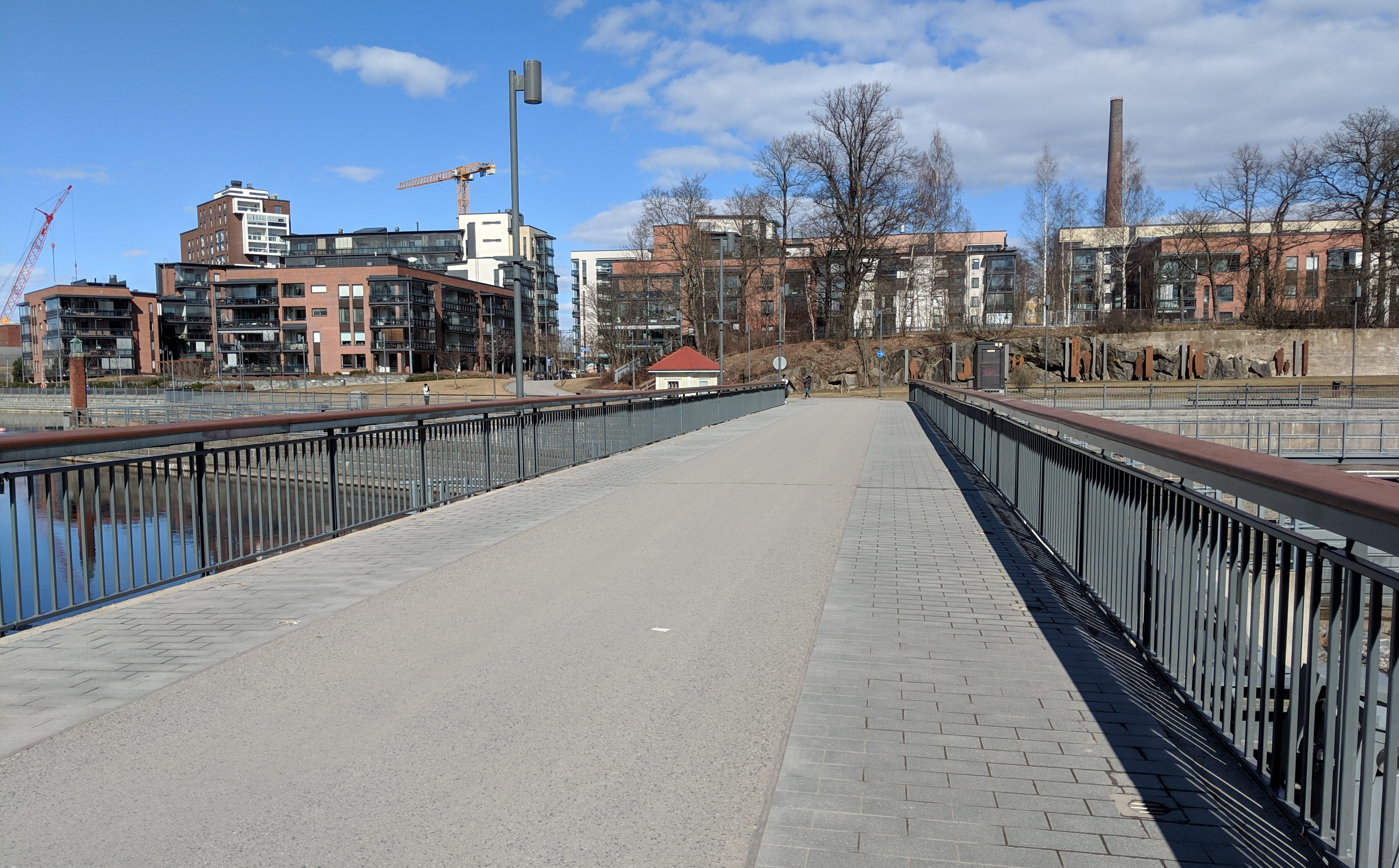 Visiting Helsinki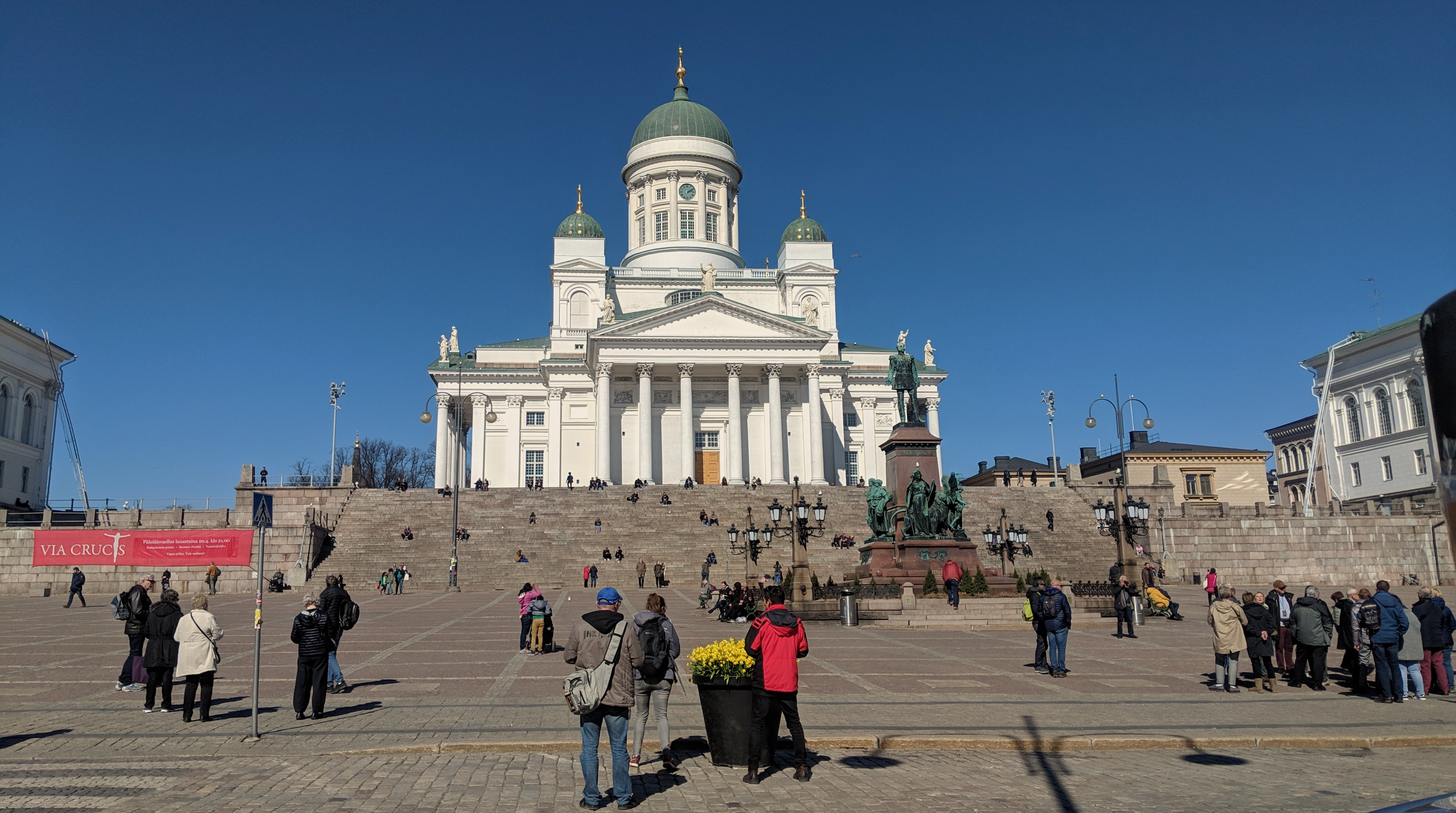 My wife needed to work in the lab for a couple of days while I was visiting, and I spent the first cleaning her apartment and the second visiting Helsinki. I headed over to Tampere's train station and purchased a ticket. With less jet lag and a fully charged battery, I could appreciate just how cheap and efficient Finnish trains were. Purchasing a ticket just 20 minutes in advance for the 100 mile journey was only €21 euros (~$22 at the time from what I remember). A trip from New York to Philadelphia is 80 miles and would easily cost over $100 for a trip at a reasonable time of day. The internet on the train was also plenty fast for multiple people to be streaming Netflix too, which is a lot better than the 'turn off WiFi to access the internet on your phone' experience you get on Amtrak.
I started my day by getting a coffee at the nearest coffee shop with decent ratings (there were dozens to choose from), and walking through Esplanadi Park (or 'Espa' according to Wikipedia). The park was very nice, and despite being a popular tourist attraction and not particularly large, there also seemed to be a decent number of locals enjoying the space too.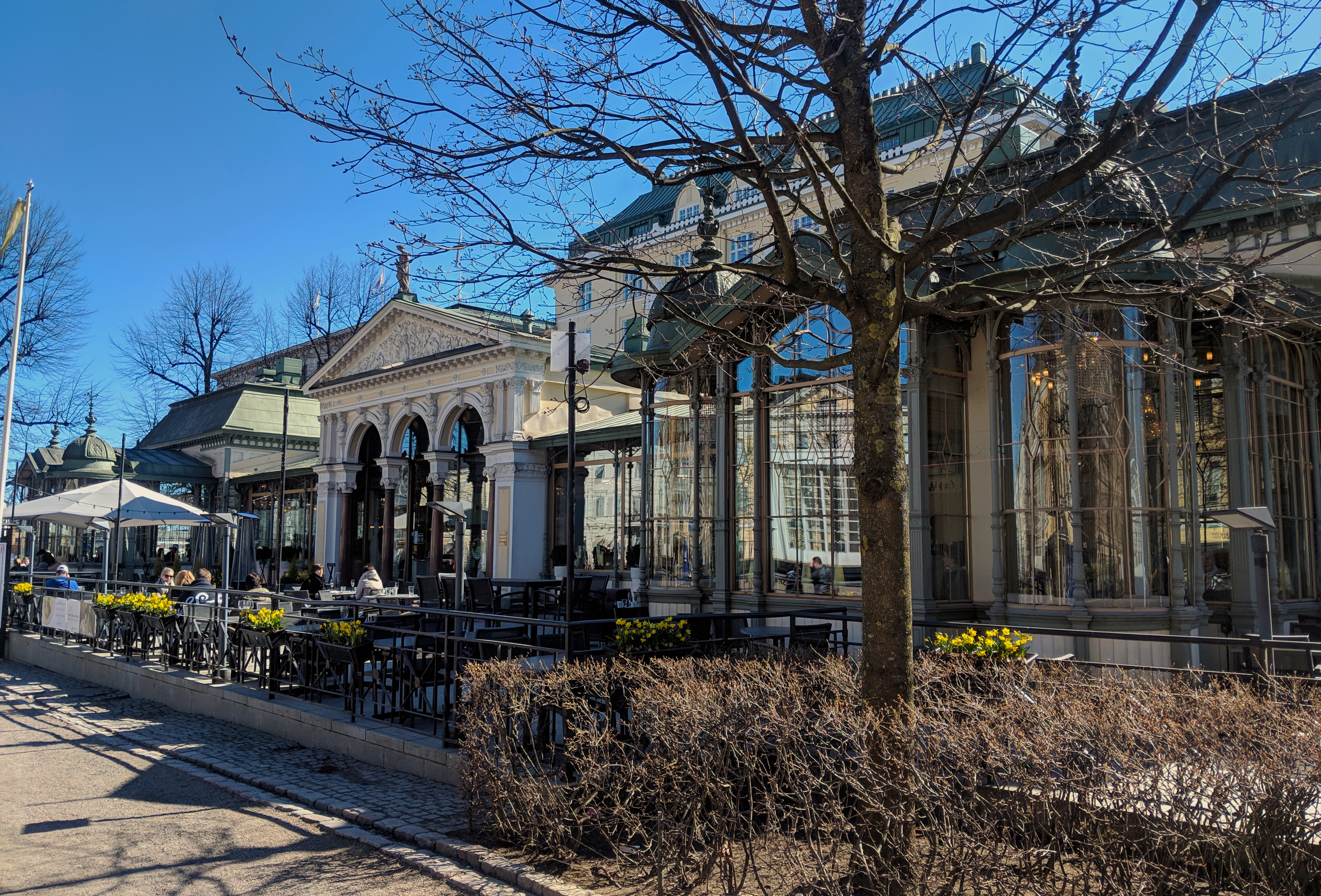 There were several parklets next to restaurants around the outside of the park that looked really nice, even if it was still a little on the chilly side to sit out to eat. There were two streets cutting through the center of the park, and it was a comforting reminder of New York seeing a truck parked on the pedestrian path forcing people to walk in the bike lane.  The uncomfortably busy highway that butts the eastern end of the park was another reminder that Helsinki has not made quite as much progress as other Scandinavian cities in pivoting back away from cars.
I still had some time before my ferry to Suomenlinna, so I walked up to the Helsinki Cathedral and grabbed some photos of the iconic trams (although I didn't ride one since my personal rule is that I have to actually be going somewhere to add a transit mode to my list). The Cathedral was a nice place to sit and take a break, but without going inside or being part of a tour, there wasn't much else to look at other than a mostly empty plaza.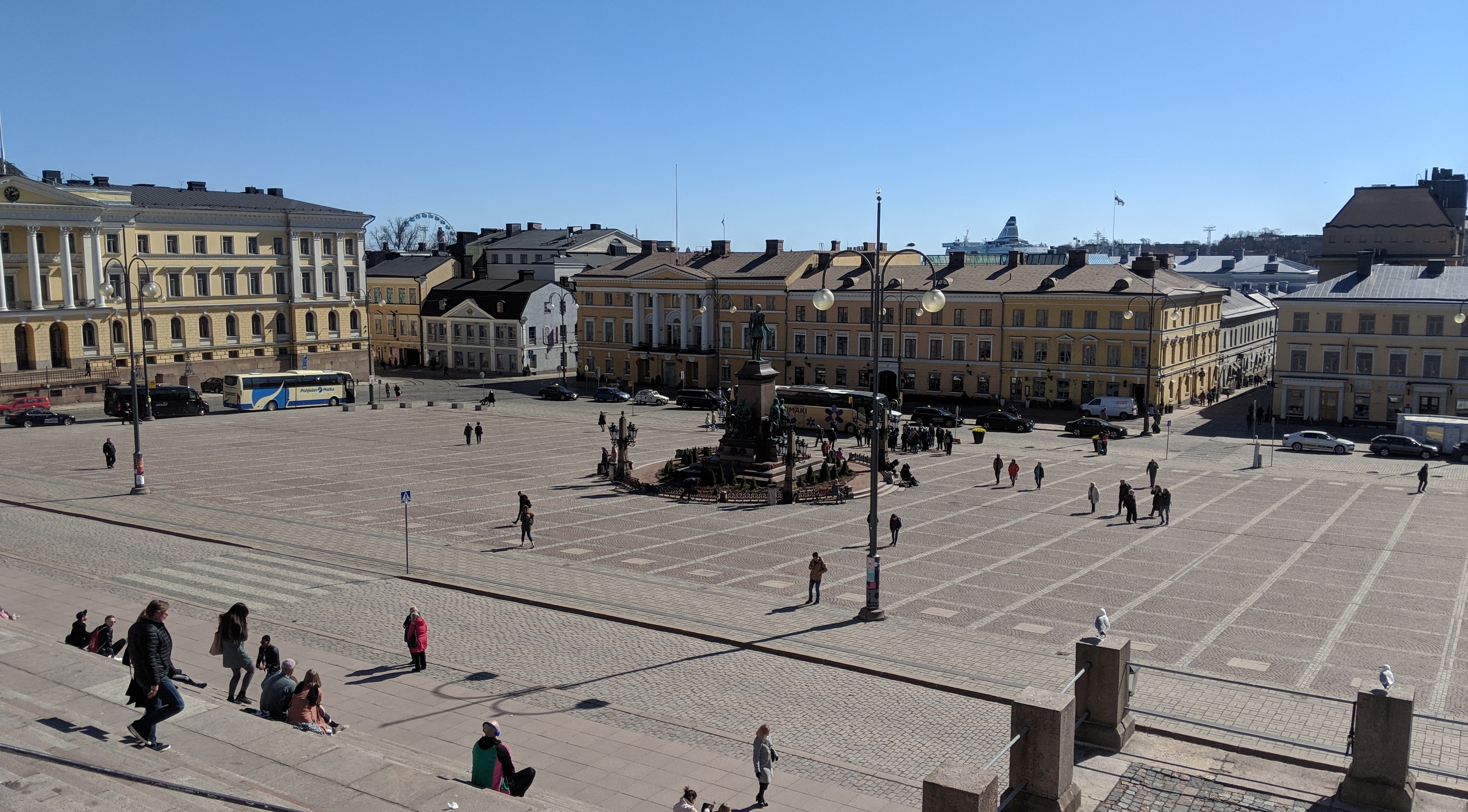 Traveling to Suomenlinna
Suomenlinna is a (former) sea fortress spread over eight islands near Helsinki with around 900 inhabitants, and has been a UNESCO World Heritage site since 1991. The only public way to the island is via a ferry which is part of the public transit system, and both residents and tourists share the ride.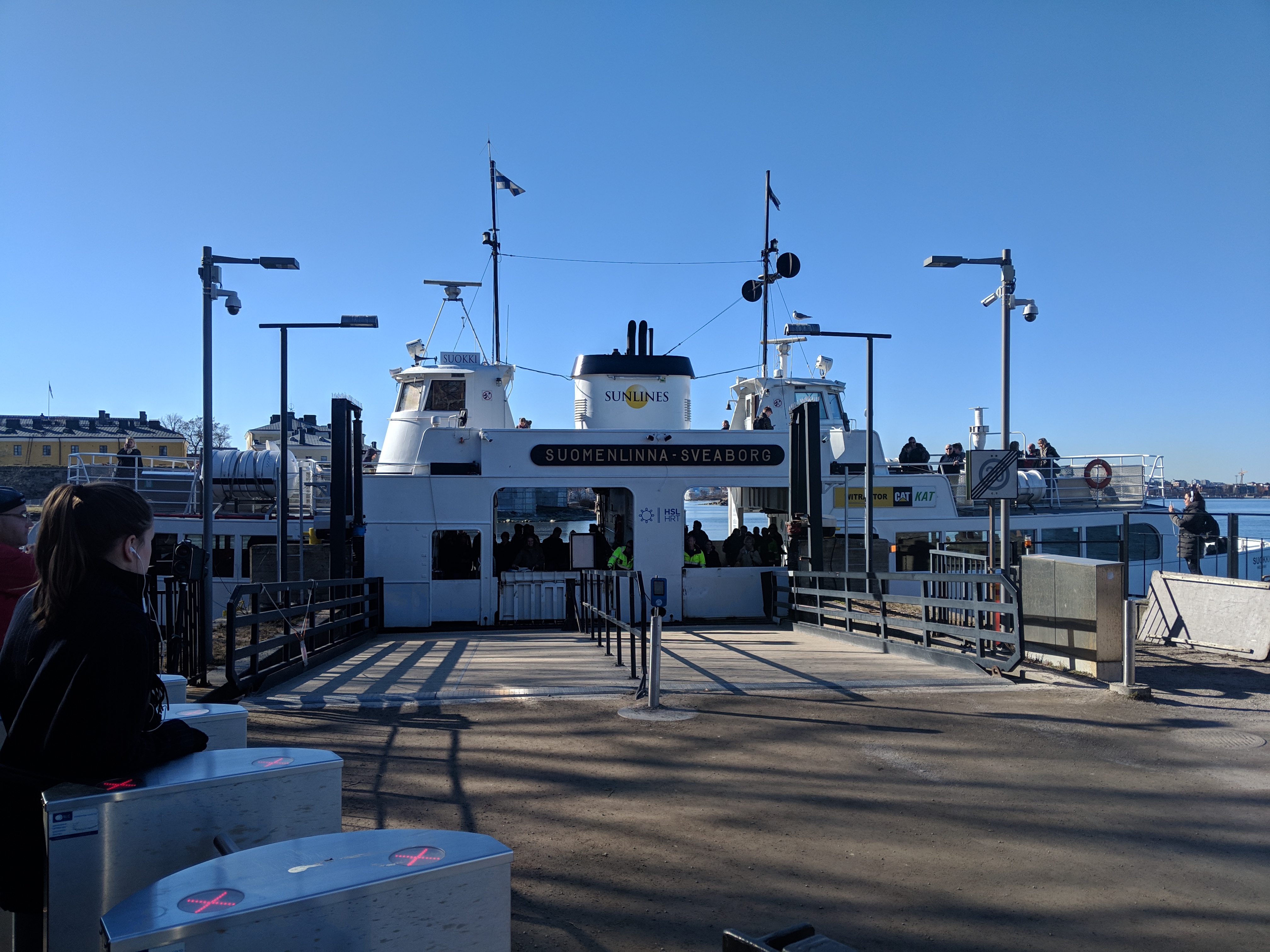 I walked around the island for around two hours, stopping by a couple of the small museums. Like everywhere else in Finland, there were also a few cafes, although I didn't stop in any of them. Rather than rambling on, I'll let the photos do the talking.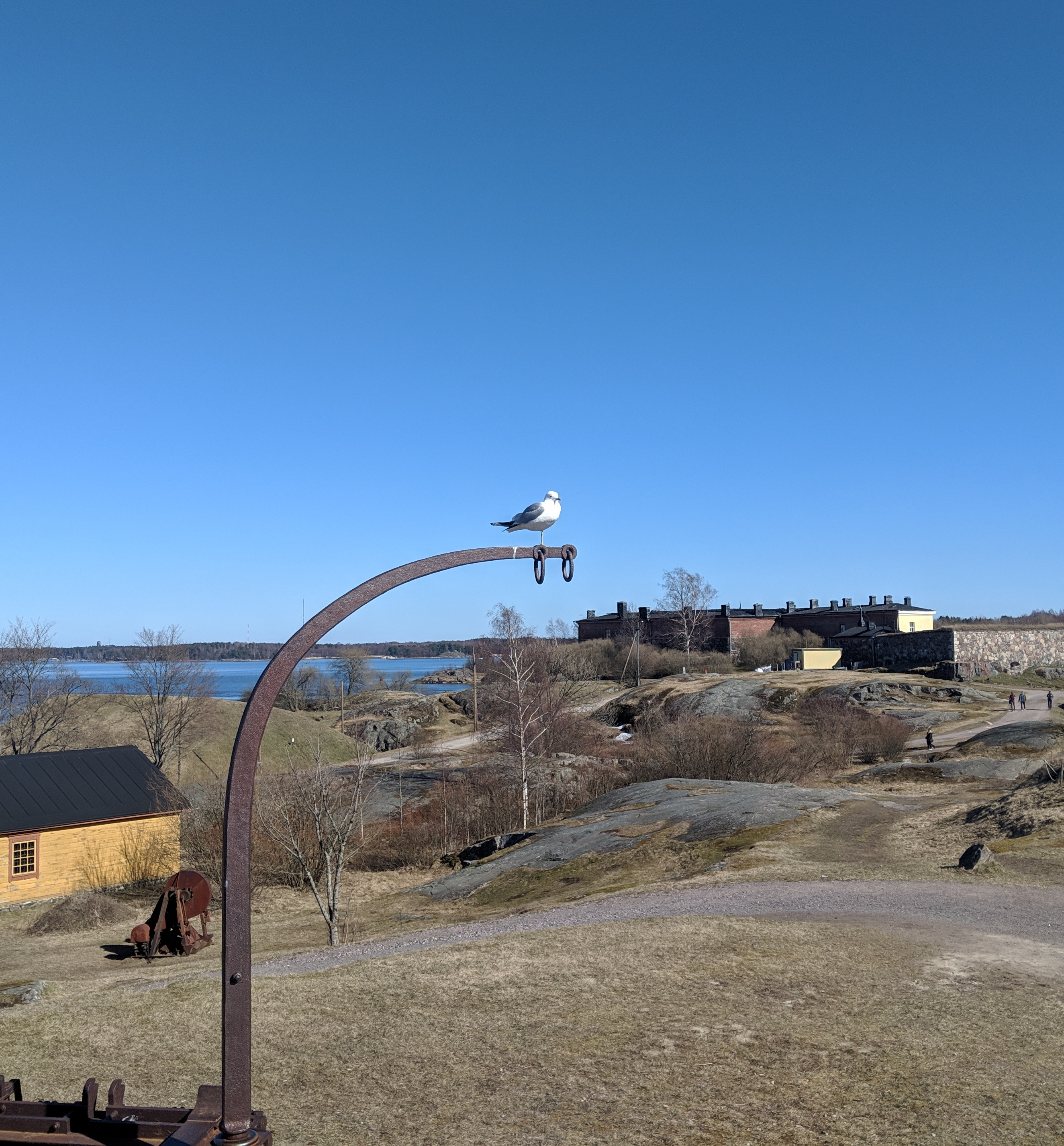 While it doesn't completely come through in the photos, the requirement to take a ferry to access the island helped keep it from feeling too busy (at least compared to working in the Financial District in NYC). I was also struck by how much the residential feel of the island came through. Most of the residential buildings are off the typical tourist path, but between the playgrounds, the school, and the small library, it was clear that the island is a living place and not just a museum.
In addition to the fort, there was a surprisingly large, fully functioning dry dock too (from 1750). Nowadays they use it to fix wooden sailboats, but in the past it was mostly used by the Swedish and Finnish governments to build military vessels and planes.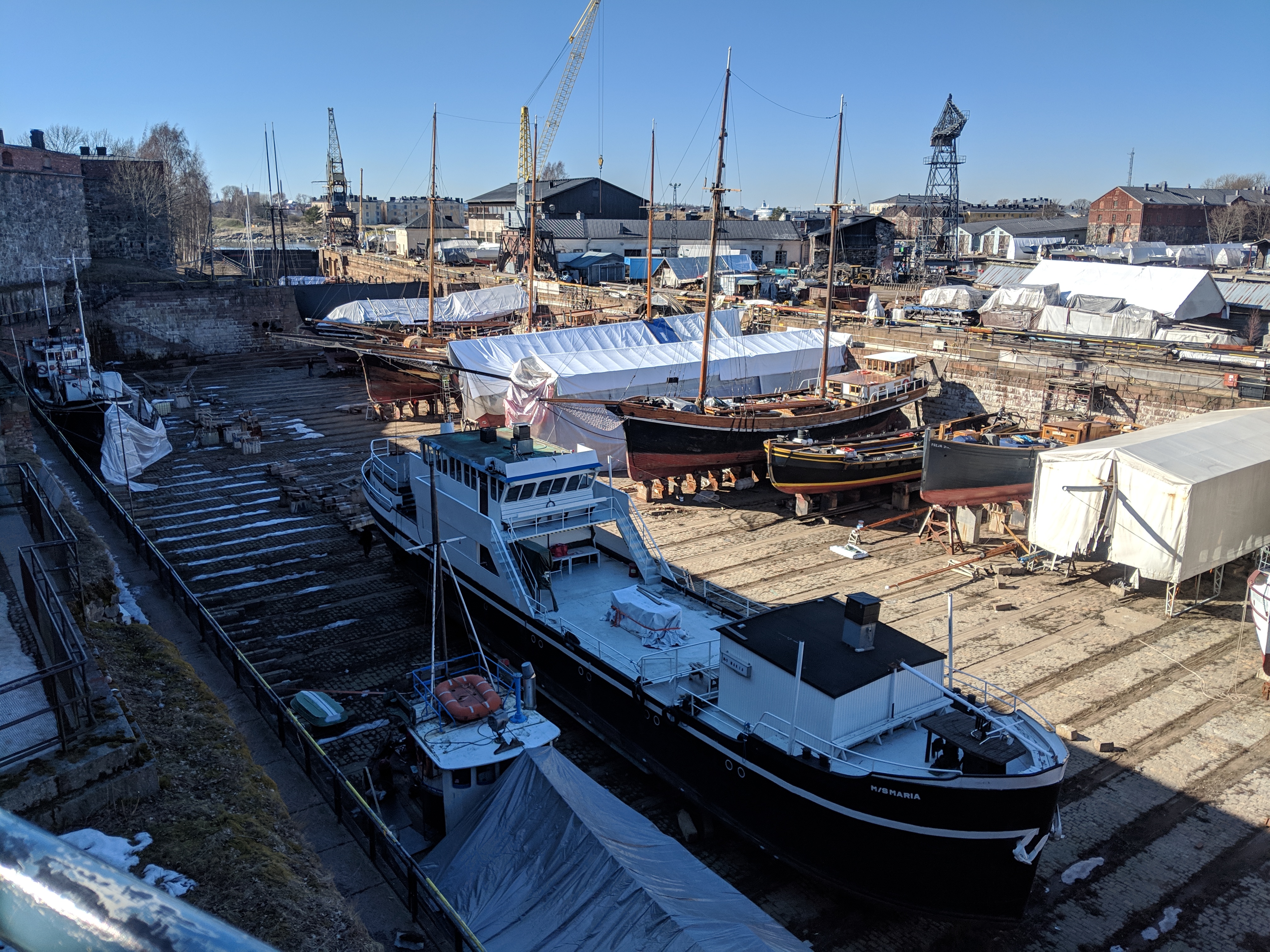 Before heading back to the mainland, I enjoyed a nice porter and quiche.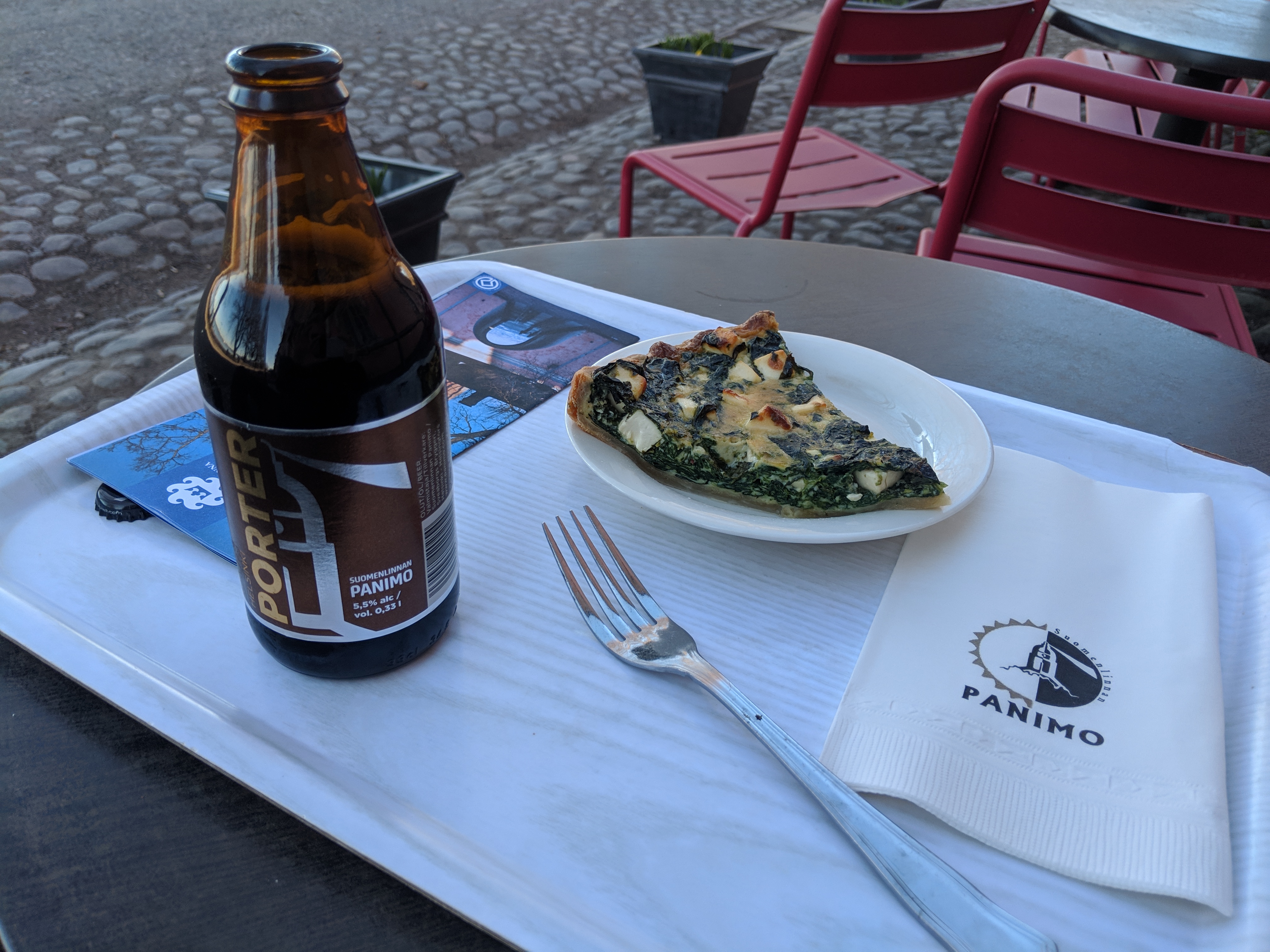 Visiting Oodi, Helsinki's Central Library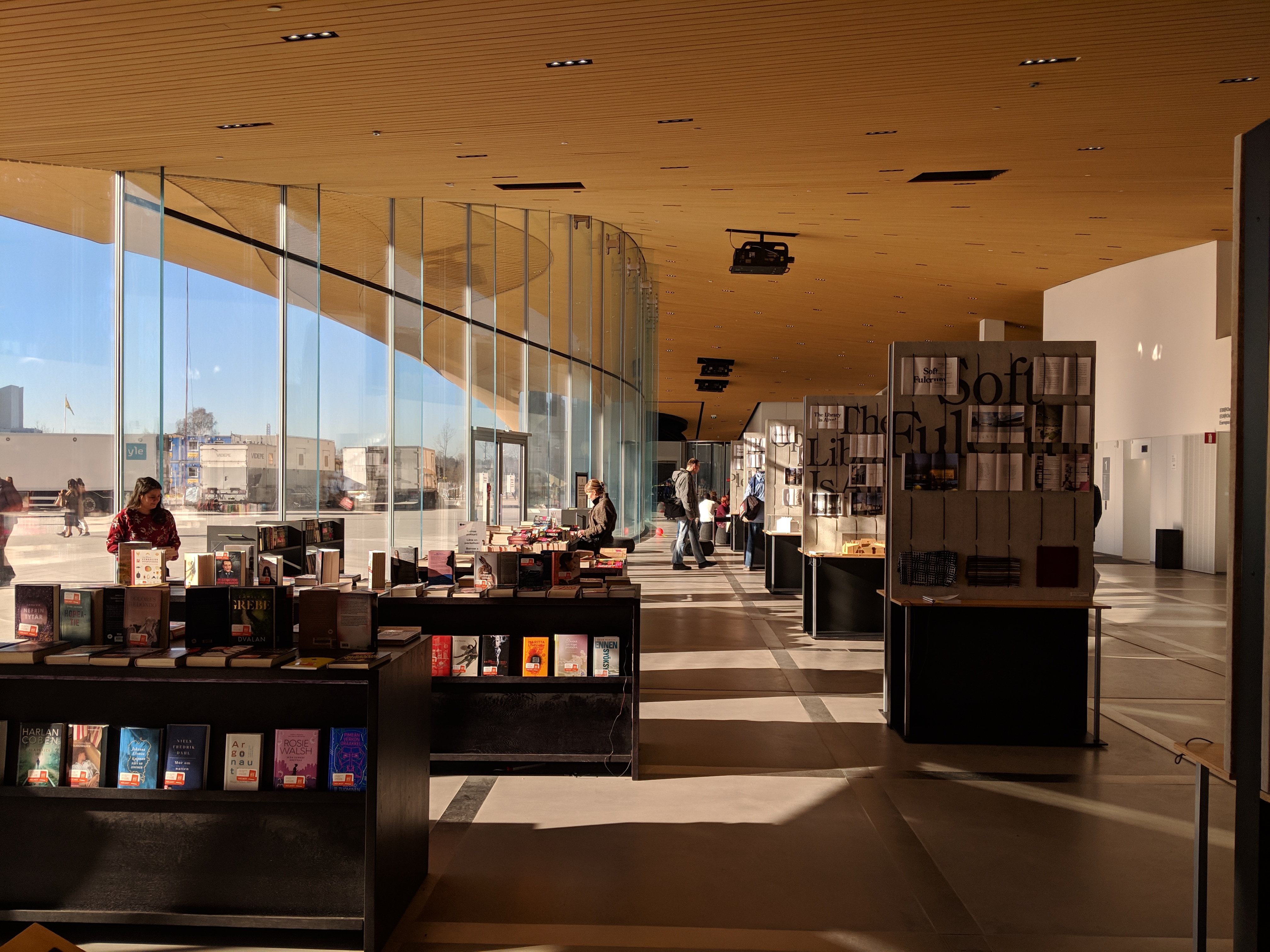 Across from the Finnish Parliament building lies Helsinki's central library, Oodi. A big part of the marketing, from the website to the pamphlets in the library itself, is focused on "What is Oodi?" You see, Oodi is not just any old library:
Helsinki Central Library Oodi is a living meeting place at Kansalaistori square, right at the heart of Helsinki. It is one of 37 branches of Helsinki City Library and part of the Helmet library network.

Oodi provides its users with knowledge, new skills and stories, and is an easy place to access for learning, story immersion, work and relaxation. It is a library of a new era, a living and functional meeting place open for all.
The first floor contains most of the larger event spaces in Oodi, a multipurpose space with a small cafe/restaurant, and a few quick-access library services like an automated book return and the ability to quickly borrow from a curated selection of new titles. From my perspective, the lack of comfortable seating signaled the architects wanted it to mostly serve as an entry hall for meeting up with others before finding a reserved meeting room or a more comfortable spot on a higher floor.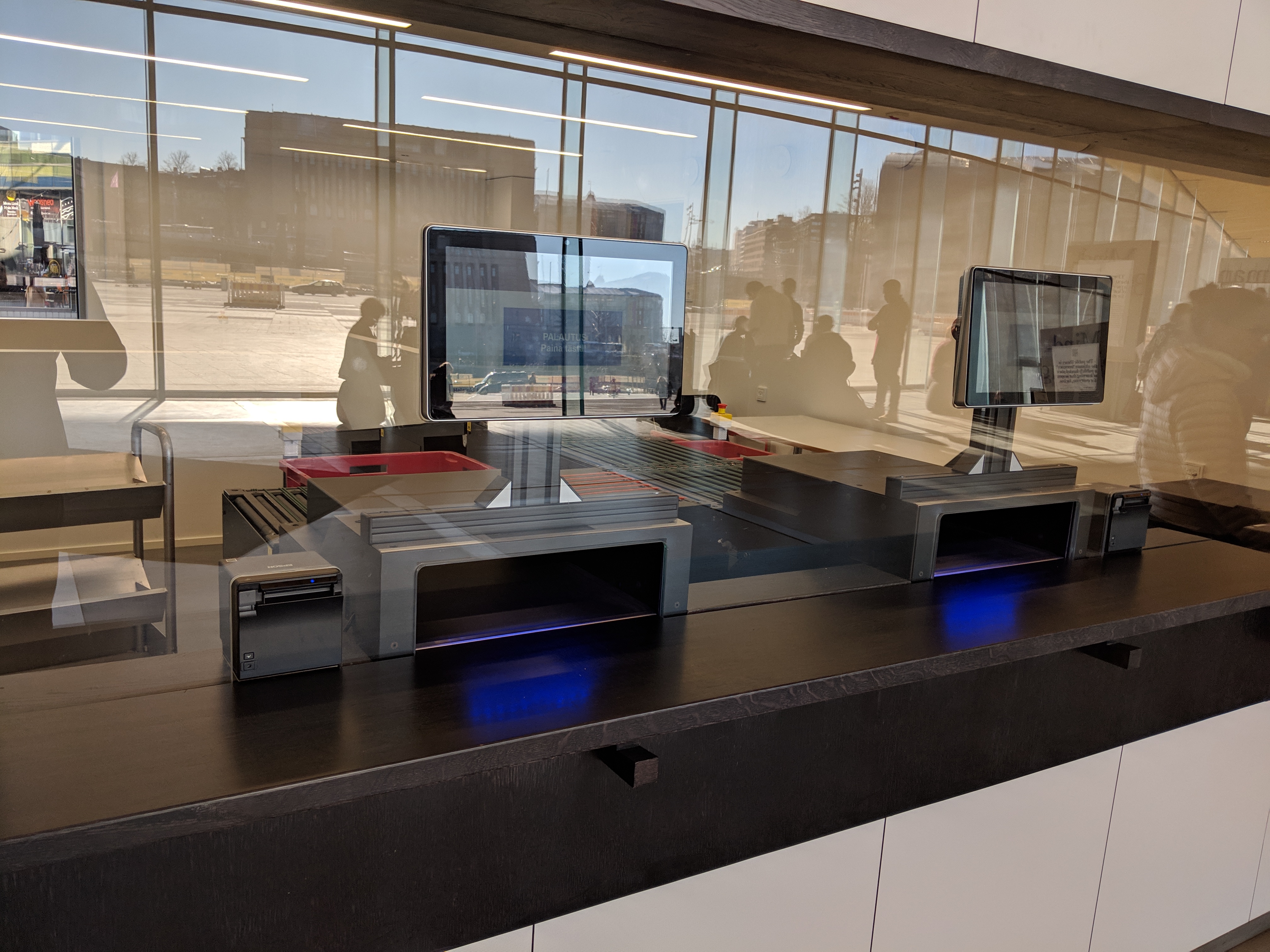 ---
The second floor was probably the greatest break from my own stereotype of a library, housing a full-on makerspace. There was an Esports/LAN party room, dedicated editing workstations with calibrated monitors, audio, photo, and video recording studios, 3D Printers, laser cutters, large image printers, sewing machines... There was even a kitchen for after-work cooking classes. It was frankly amazing to see everything on the second floor, all available to the public (with reasonable limitations on training and reservations).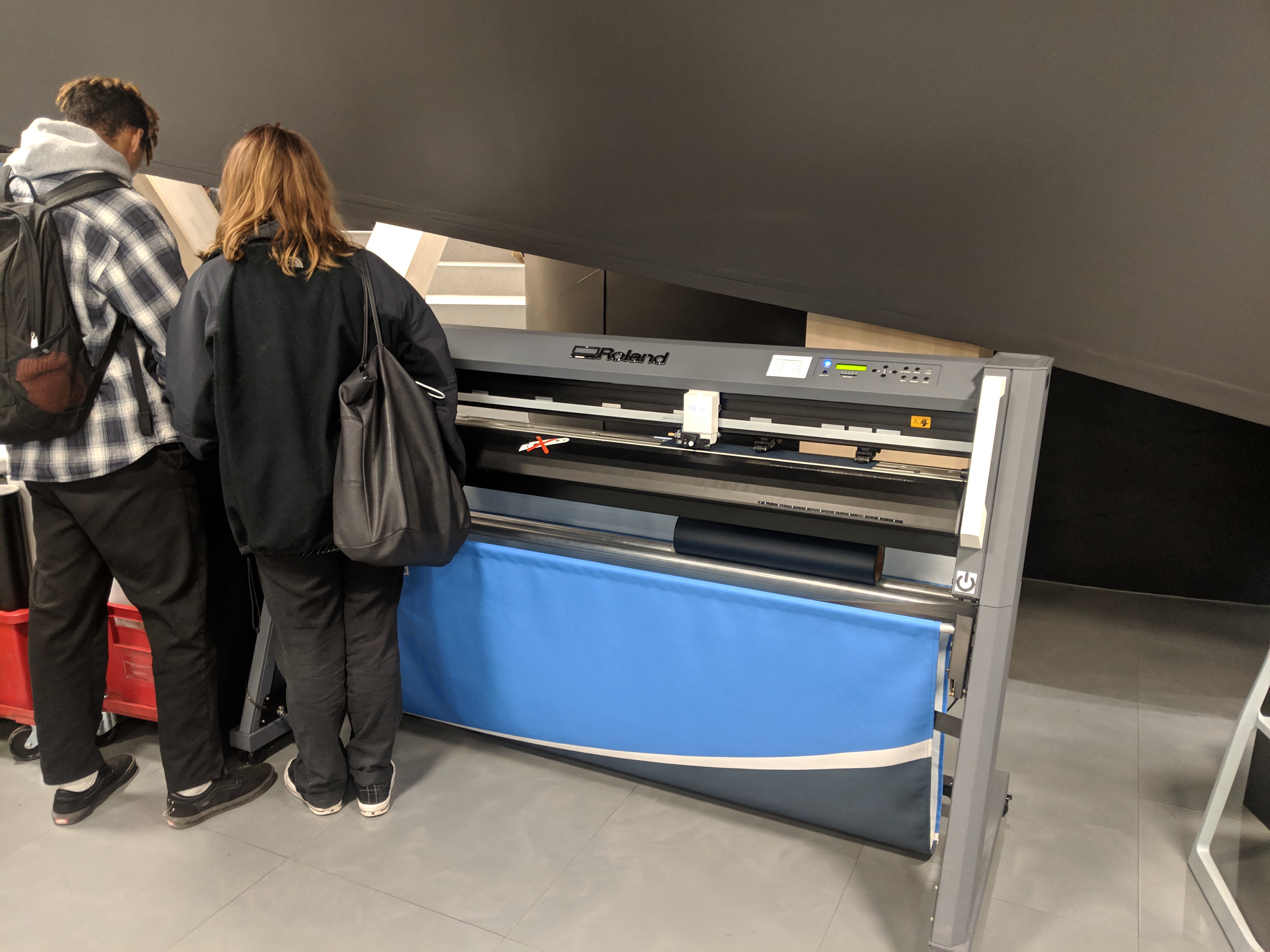 ---
The third floor is what most would think of as a traditional library, although the stacks are much shorter than the ceiling, which keeps the space feeling nice and open. At one end is a play area for small children, although the acoustic design of the space keeps it from being annoying. There are separate reading rooms which are quieter, since even on the books floor, there is a small cafe and tables for meeting with friends and colleagues. Initially I thought it was a little weird, but in a city with such a tough winter, the inside of the library becomes an important indoor space for socializing open to everyone, and the reading rooms are always available if you long for quiet.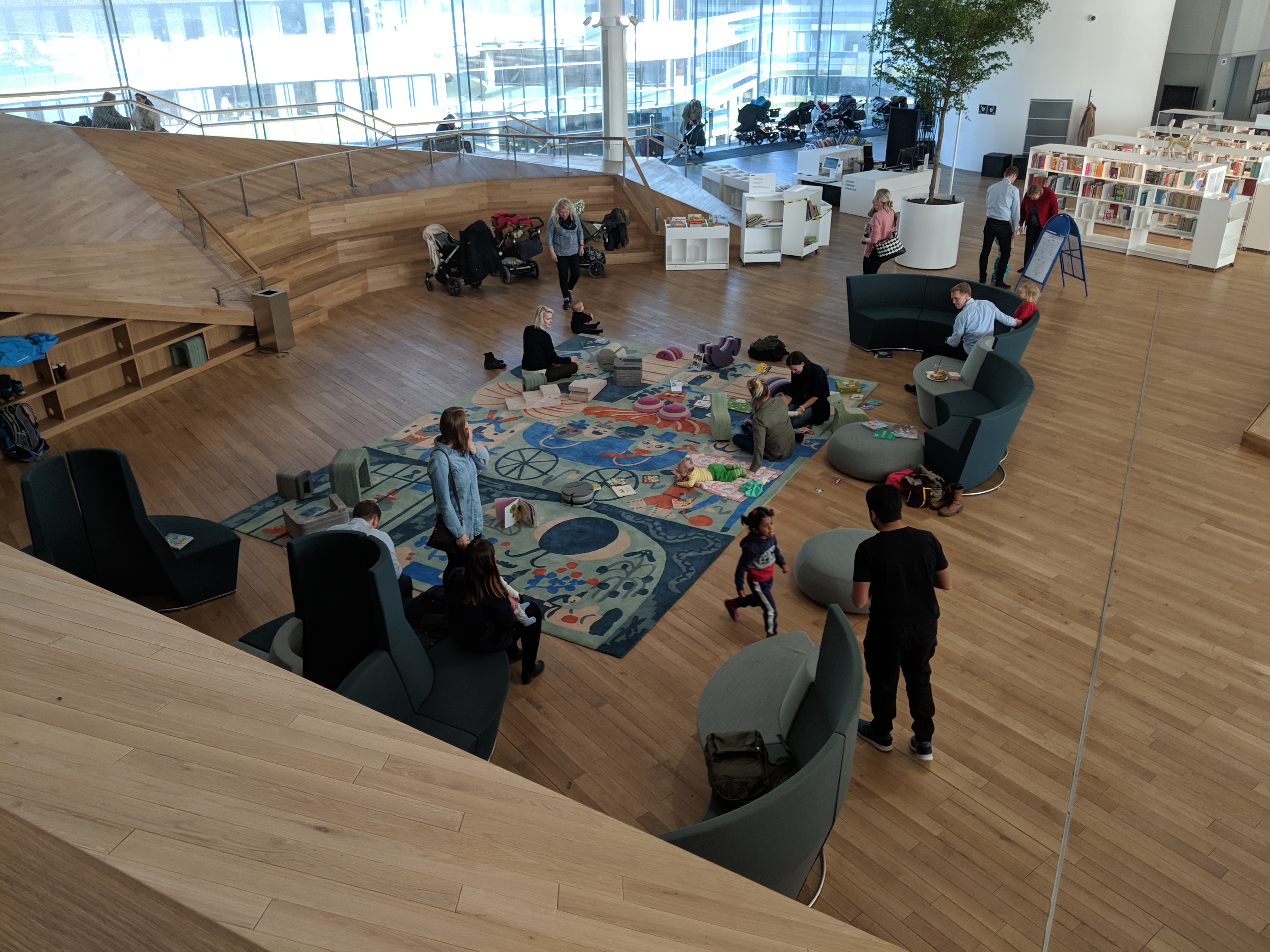 Visiting Oodi was amazing and really shows what is possible in an effective public works project. Public spaces like this are not just possible because of high taxes, but also because the design focuses as much on the form as it did the function, and the total project cost just €98 million for the 185,000 square foot space. This is extremely affordable compared to a similar projects elsewhere in the world (compare that to the $40 million Hunters Point library at just 22,000 square feet of space, with a mezzanine that is not even ADA accessible).
Trains
If you made it this far, I'm now going to talk about trains, because riding the train in Finland was an absolute joy.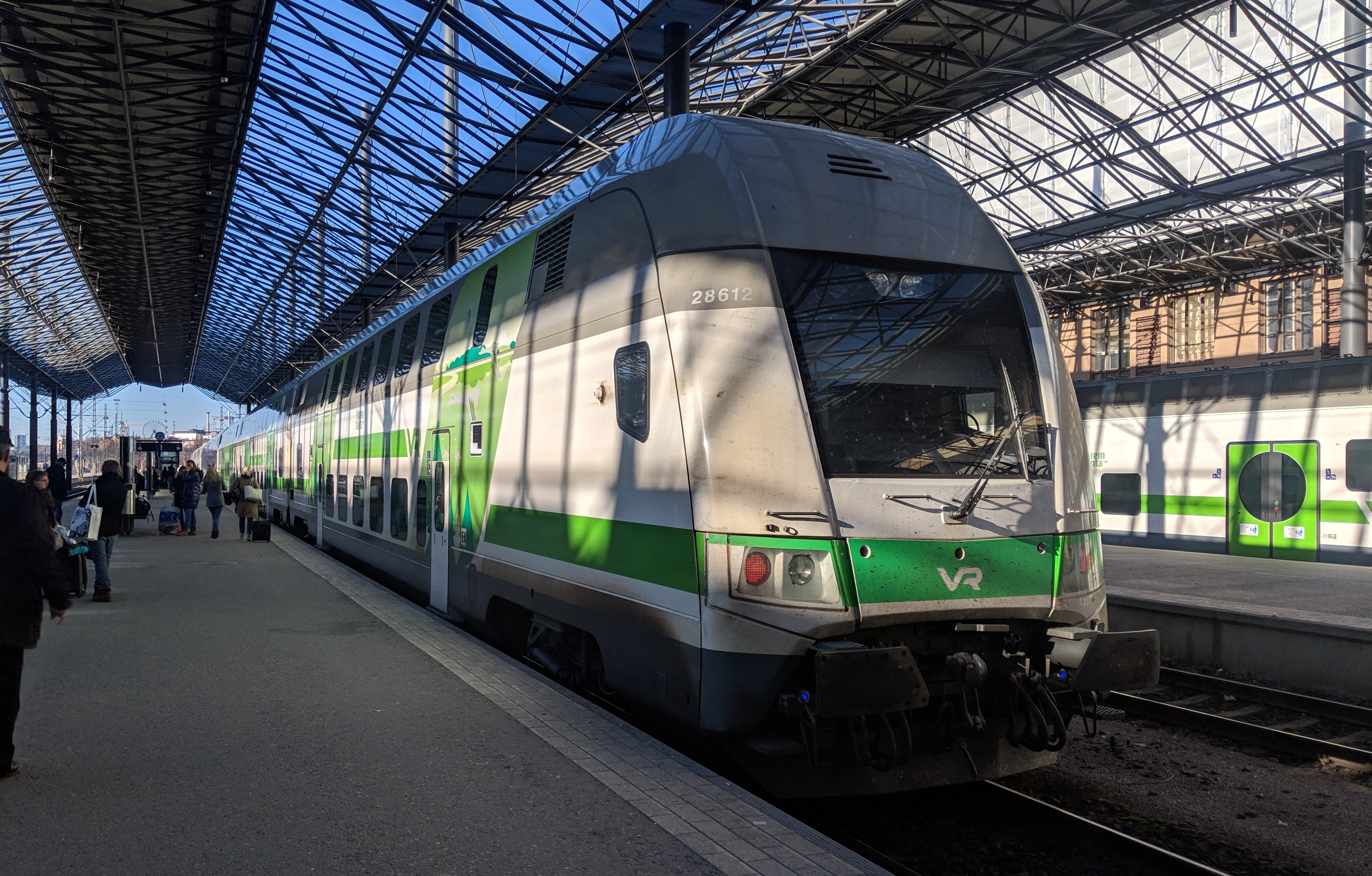 To ride on VR, you go up to any of the ticket machines and order a ticket to your final destination. There are both local and intercity machines, although the intercity machines will still allow you to purchase local tickets as part of your trip. More impressive than the ticket machines though was the cost. A two hour trip to Philadelphia on Amtrak last minute would cost far more than the €18 it cost to go from Tampere to Helsinki. The machine gives you an automatic seat assignment, although you can pick your own as well (unfortunately I remember the interface being difficult to use, even if frequent riders would get used to it). Also, the Wi-Fi was fast enough to stream HD Netflix, which is also a far cry from Amtrak where you often need to turn off the Wi-Fi connection to use the internet.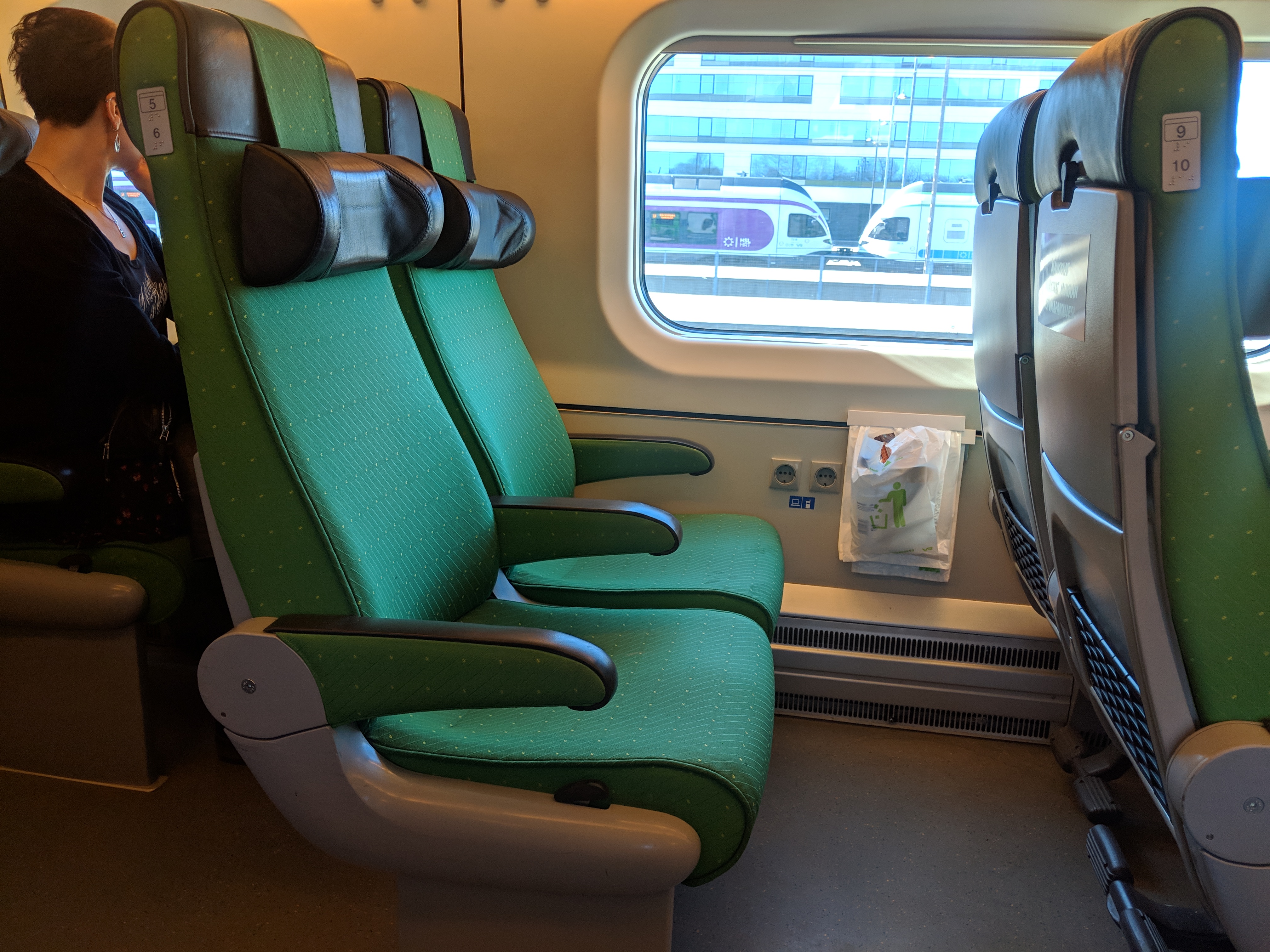 While I was a little dubious at first glance, the seats were comfortable, and the little trash bags are a nice touch as well. The ride was smooth and quiet, with convenient storage above the seats for luggage. Folks seemed to mostly take the assigned seating seriously, often sitting next to a stranger even if most of the train was empty. Each train had pet friendly cars, and while I never saw one, my wife accidentally rode in the children's car once (which had a full play pen for kids), and some trains had cafe cars as well.
Overall, the experience was great, but one thing in particular stood out to me compared to riding on other high quality European trains.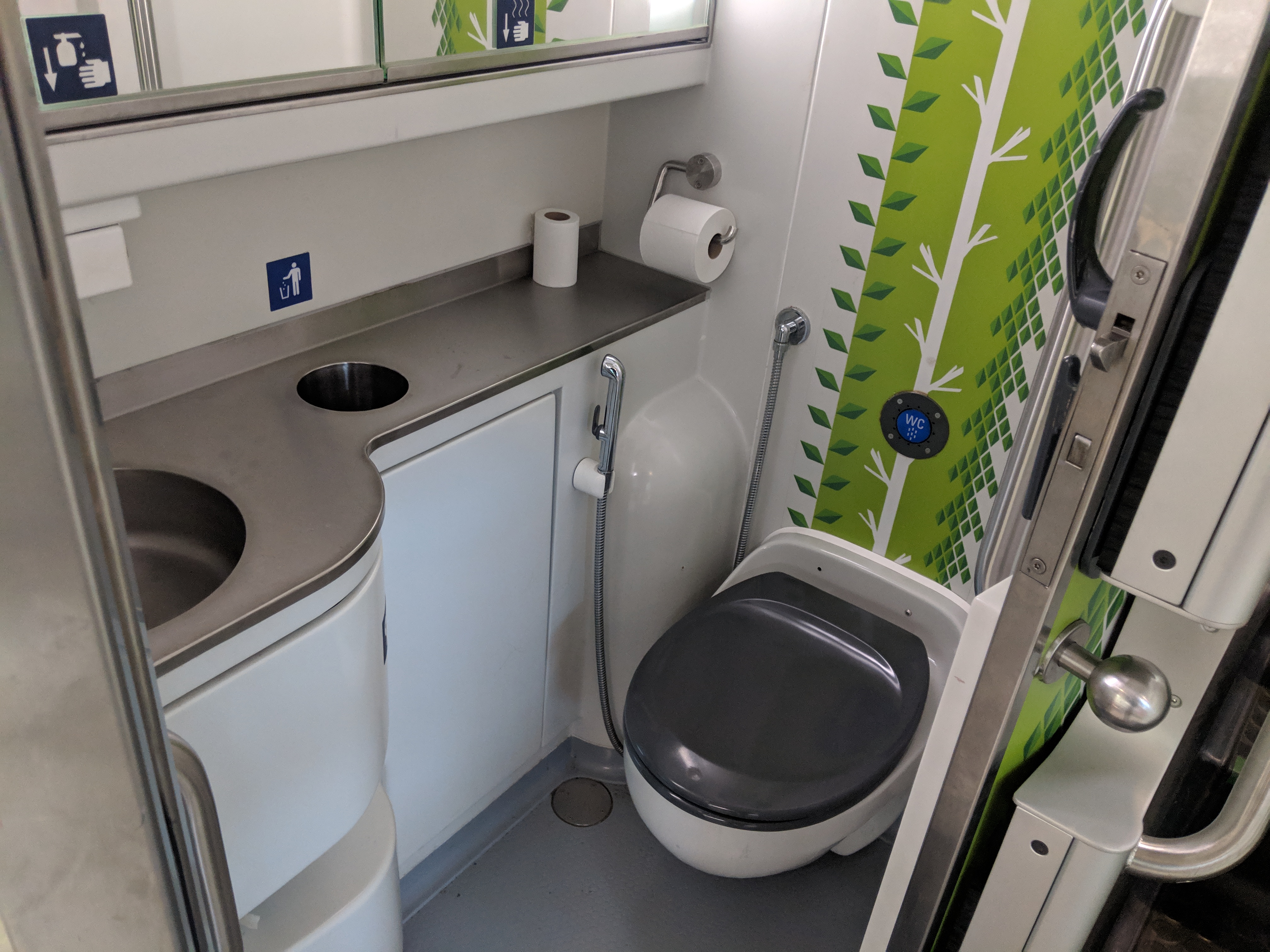 Bathrooms on trains are really never very exciting, and the best you can hope for most of the time is that it will be clean. But a bidet?? On a train? Admittedly, almost every bathroom I went to in Finland had one, but I still really didn't expect to see it on the train too.
Anyways, I still have some photos left, and less of a story to tie it all together, so I'll leave you with one last photo gallery of some of the other transit photos I took around Finland. I know I haven't really traveled in awhile now, and it's tough even in normal times when your family is spread across different cities, so it was nice to revisit an old trip that was a lot of fun, and hopefully you enjoyed the journey as well.