Behind the Scenes of Seattle's Transportation Infrastructure
A few weeks ago, I went to Seattle on an exchange program with between the Seattle Chapters of Young Professionals in Transportation (YPT). I was able to go on behind the scenes tour of transportation infrastructure throughout the city.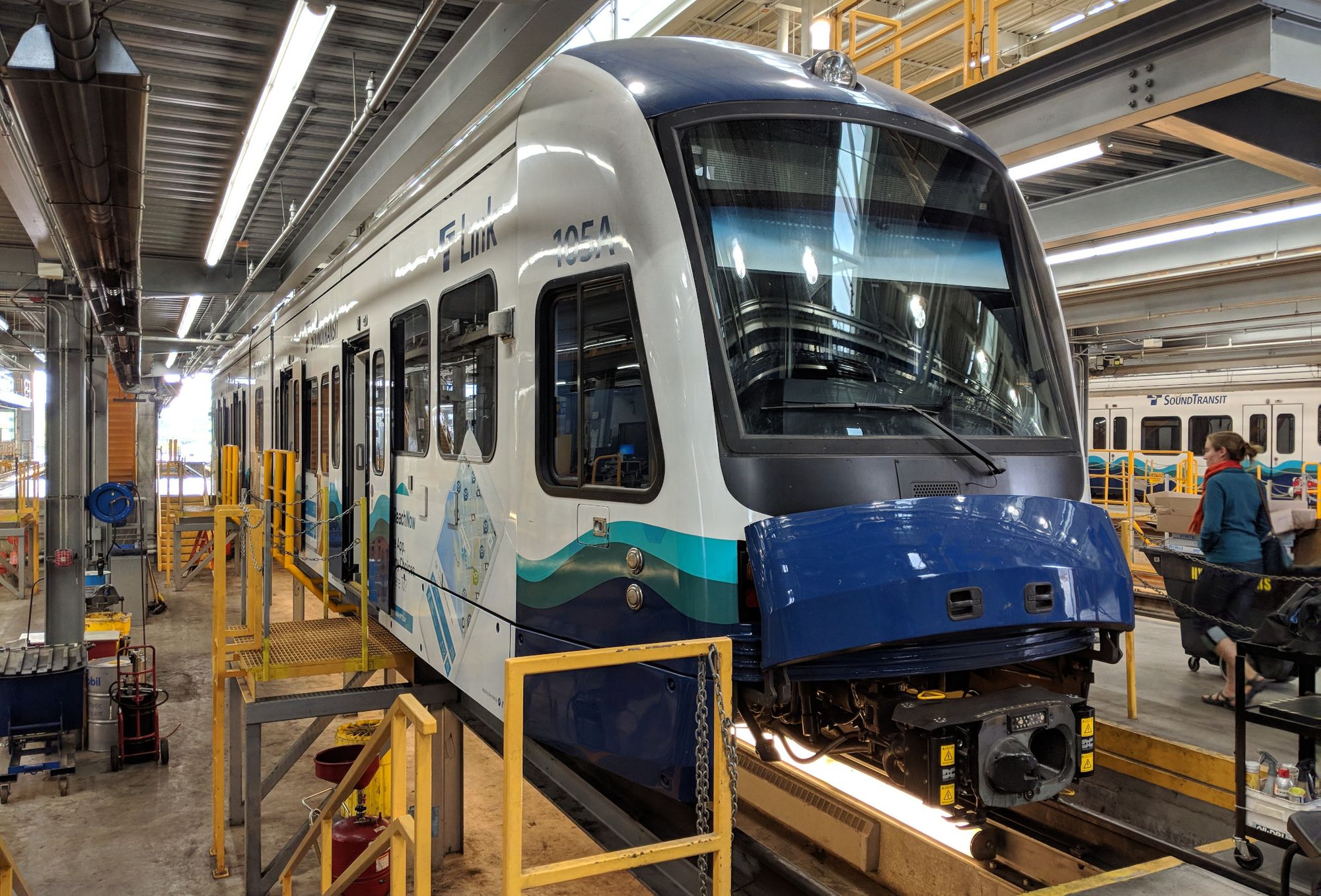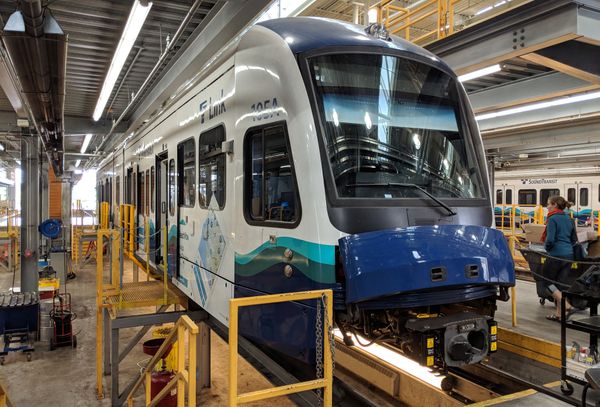 A few weeks ago, I went to Seattle on an exchange program between the Seattle and New York City chapters of Young Professionals in Transportation (YPT). The program coordinators picked four people from each city to go on a two day trip (without travel) to each other's cities, staying with a fellow YPT member. Thanks to this program, I had the chance to go on tours of new complete streets infrastructure, the Seattle Link light rail maintenance facility, the Link and bus control centers, and to Transportation Camp in Seattle, although I will only focus on the first two in this post.
Touring Street Infrastructure with Dongho Chang
The morning of the first day I was in Seattle, Seattle DOT chief traffic engineer Dongho Chang took us on a bike tour of changes his agency has made to the streets around Seattle to improve safety and improve multimodal access. We picked up Lime bikes in the morning and followed him up 2nd Ave, Downtown Seattle's main bike thoroughfare. Following the introduction of dockless bike share in the city, the previous mayor asked Seattle DOT to implement improvements to the bike network within only a few months. The agency put a two way bike path on 2nd Avenue from Denny Way to Pike St, although it now extends uninterrupted through downtown to S Washington St.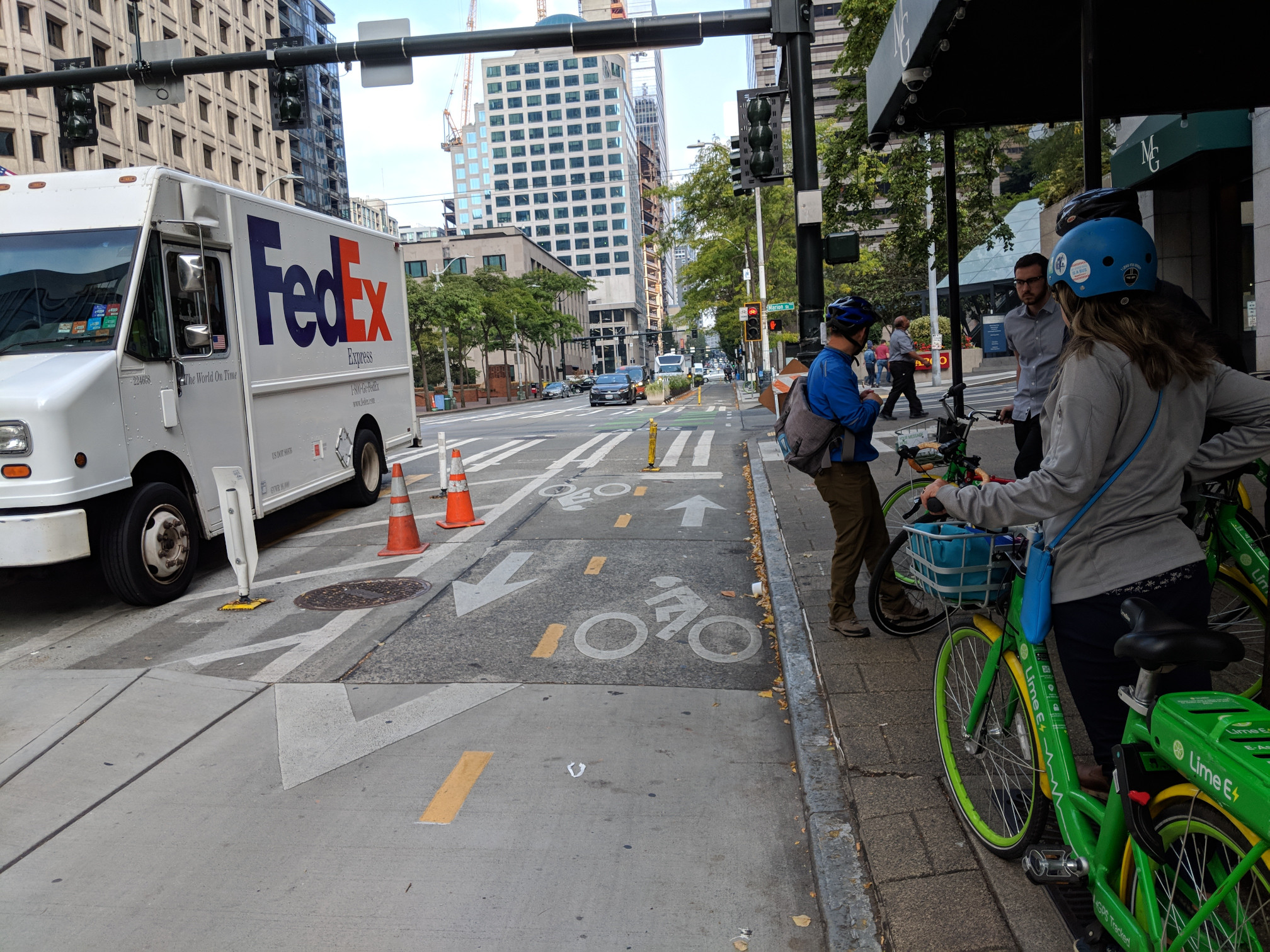 The lanes were very narrow on the bike lane at around 4 feet, narrowing to 3 ft at midblock crosswalks for hotel drop offs, but they were still comfortable to ride in. We continued along 2nd Ave up to Bell Street, where Seattle DOT had installed a woonerf.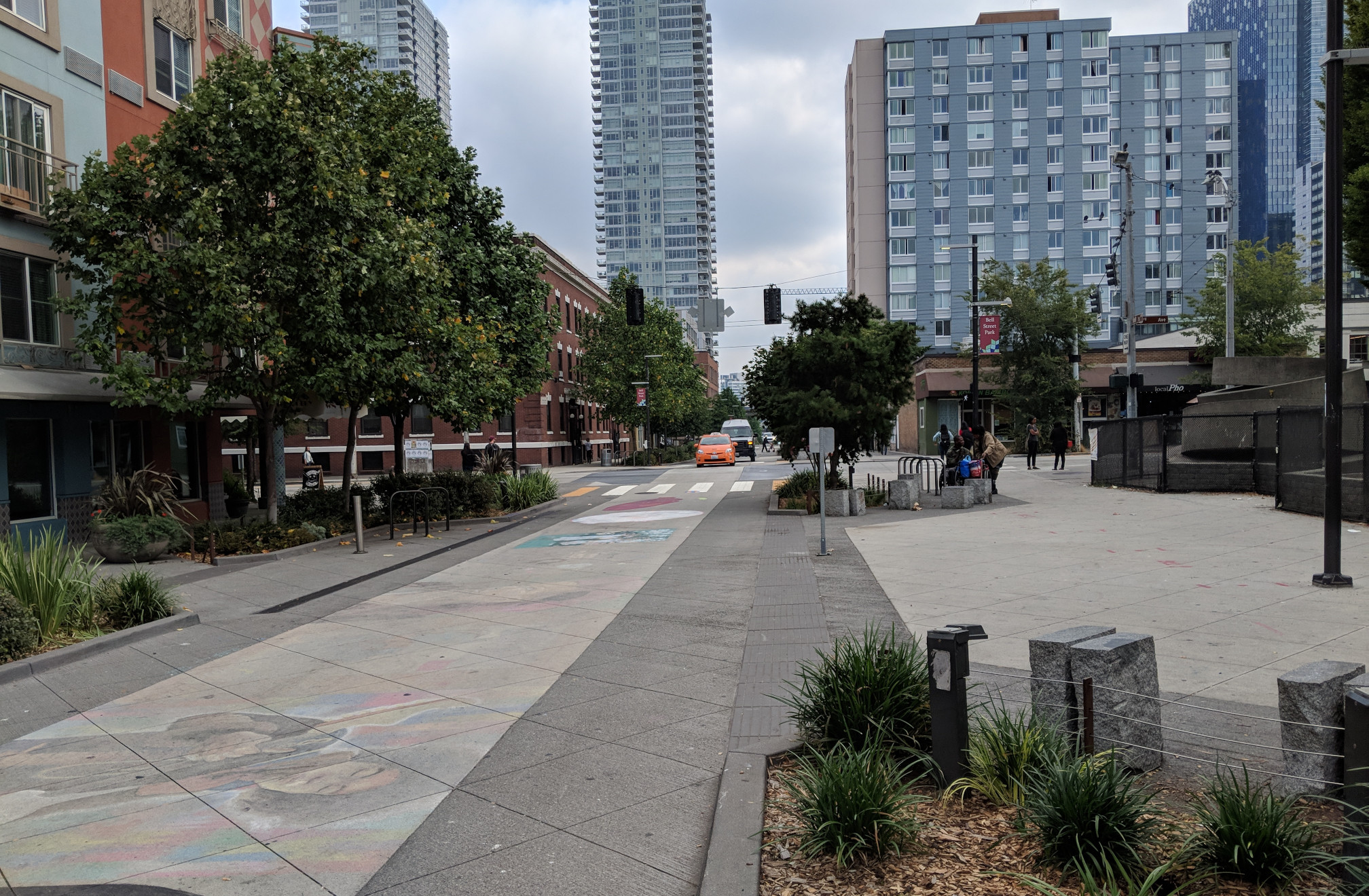 The street restricts private car usage by forcing them to turn at each intersection. While not all vehicles follow this in practice, it does mean that vehicles are much less likely to honk or be aggressive when following cyclists through intersections since they know they are breaking the law. One innovation present in SDOT's design is the use of different materials and colors to simulate a chicane to slow down drivers. Getting buy-in from the local community for this project was difficult at first, but after implementation the feedback has been almost entirely positive.
After Bell street, we biked further north to the intersection at 5th Ave and Pine St. This intersection is part of the Pavement to Parks program which installs temporary parks, mostly using paint. In this example, SDOT also put some trees into bags and brought in some public tables and chairs to help activate the space. After two years, the agency gets feedback and evaluates whether to remove the park, extend the pilot, or make the changes permanent if the project is successful.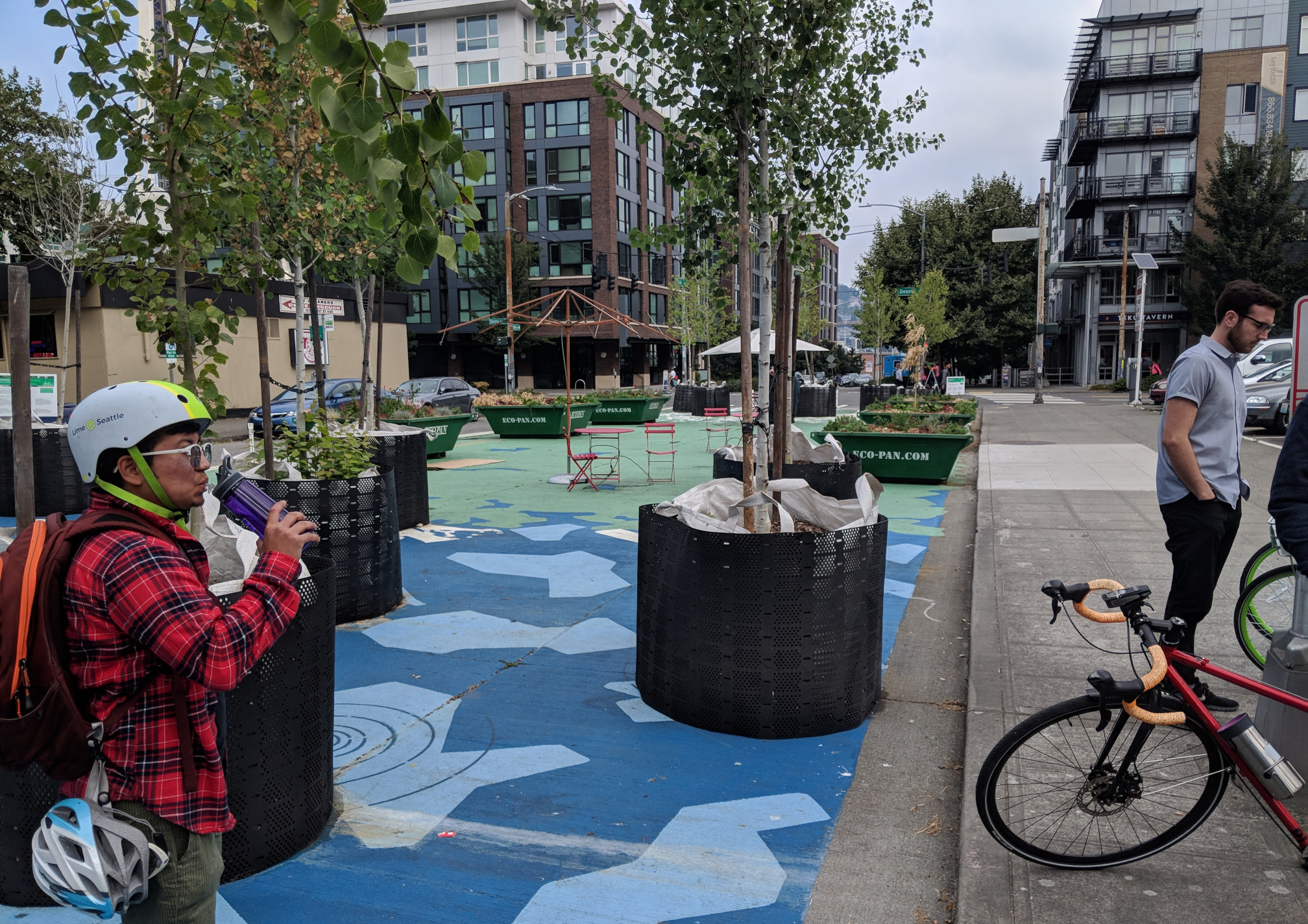 Often in urban planning, cities study potential projects for long periods of time before actually implementing them, and evaluate the results of that particular project to determine if it is worth replicating in the future. In this case however, SDOT is implementing projects using cheap, nonpermanent materials and evaluating the effectiveness of the project before rolling out more expensive permanent infrastructure. This is an easy way to change cities for the better without the long timelines public agencies typically deal with.
We finished off the trip with some free banana splits courtesy of Amazon (it was national banana split day) before grabbing lunch.
Link Maintenance Facility Tour
After some lunch at Occidental Square, we took the Link light rail out to their maintenance facility where we went on a tour of their new modern maintenance depot. We met up with the maintenance chief (I think - I forgot to write down his name and title) who showed us around the facility. I was surprised at how few maintainers were working in the facility, although this was partly because of the shortage of folks with experience maintaining light rail cars. The shortage has gotten bad enough that they were in the process of creating training programs to transition automotive mechanics over to light rail maintenance.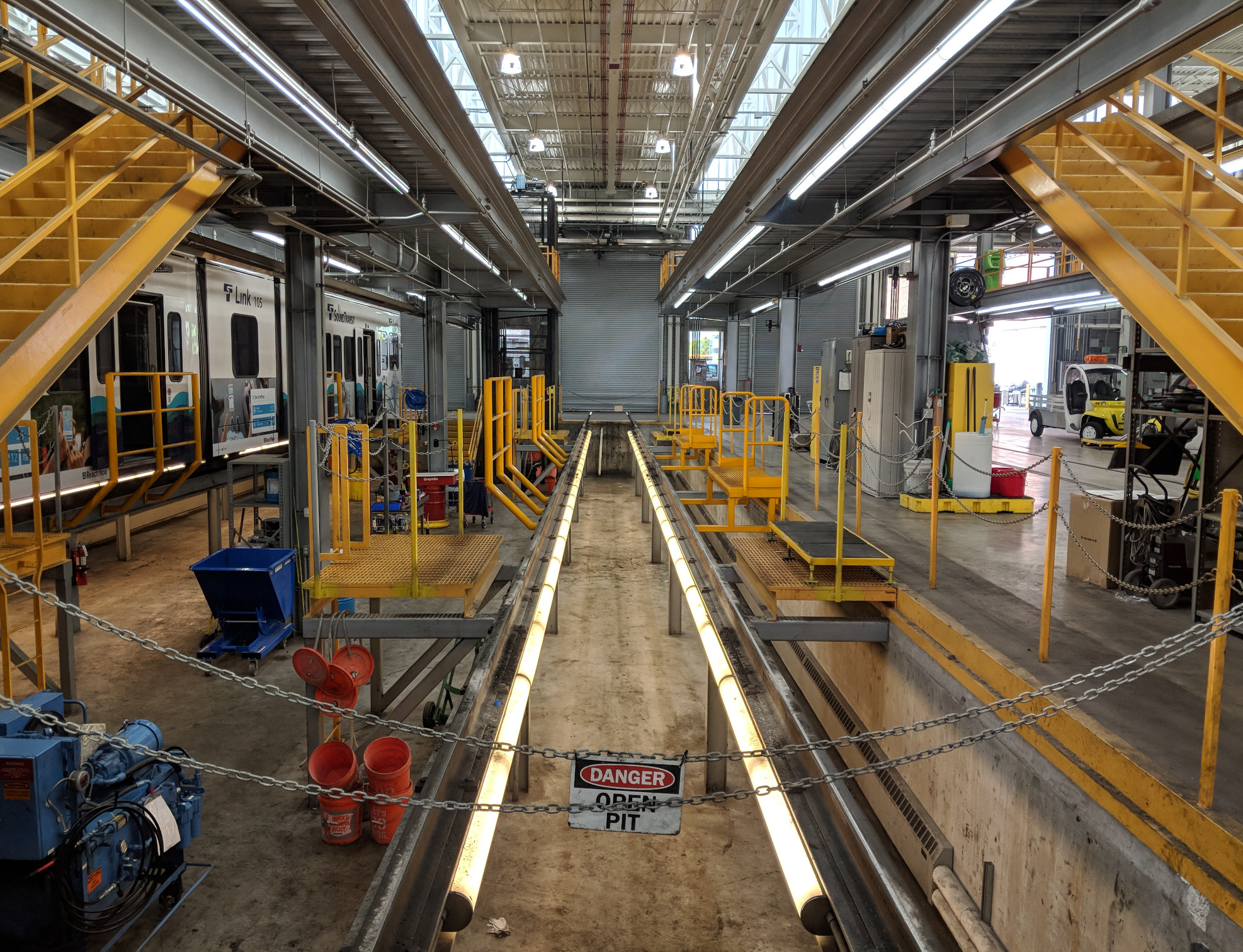 Without going into too much esoteric detail, I wanted to highlight a few of the interesting tidbits I learned about their light rail cars. From left to right in the gallery below:
This nozzle sprays sand at the wheel to help it gain traction any time the system detects wheel slippage.
A light trail truck undergoes regular maintenance.
Each light rail car rotates around this small pin.
Sound Transit reprofiles the wheels far most often than other systems to ensure there are no vibrations that affect experiments at University of Washington.
The light rail primarily uses regenerative braking to stop, but this does not work below about 5 mph. While there are traditional brakes for stopping at slow speeds, the bar between the wheels makes contact with the rail and the extra friction helps the trains stop faster.
An overhead photo of the maintenance depot
A view from above of the rail yard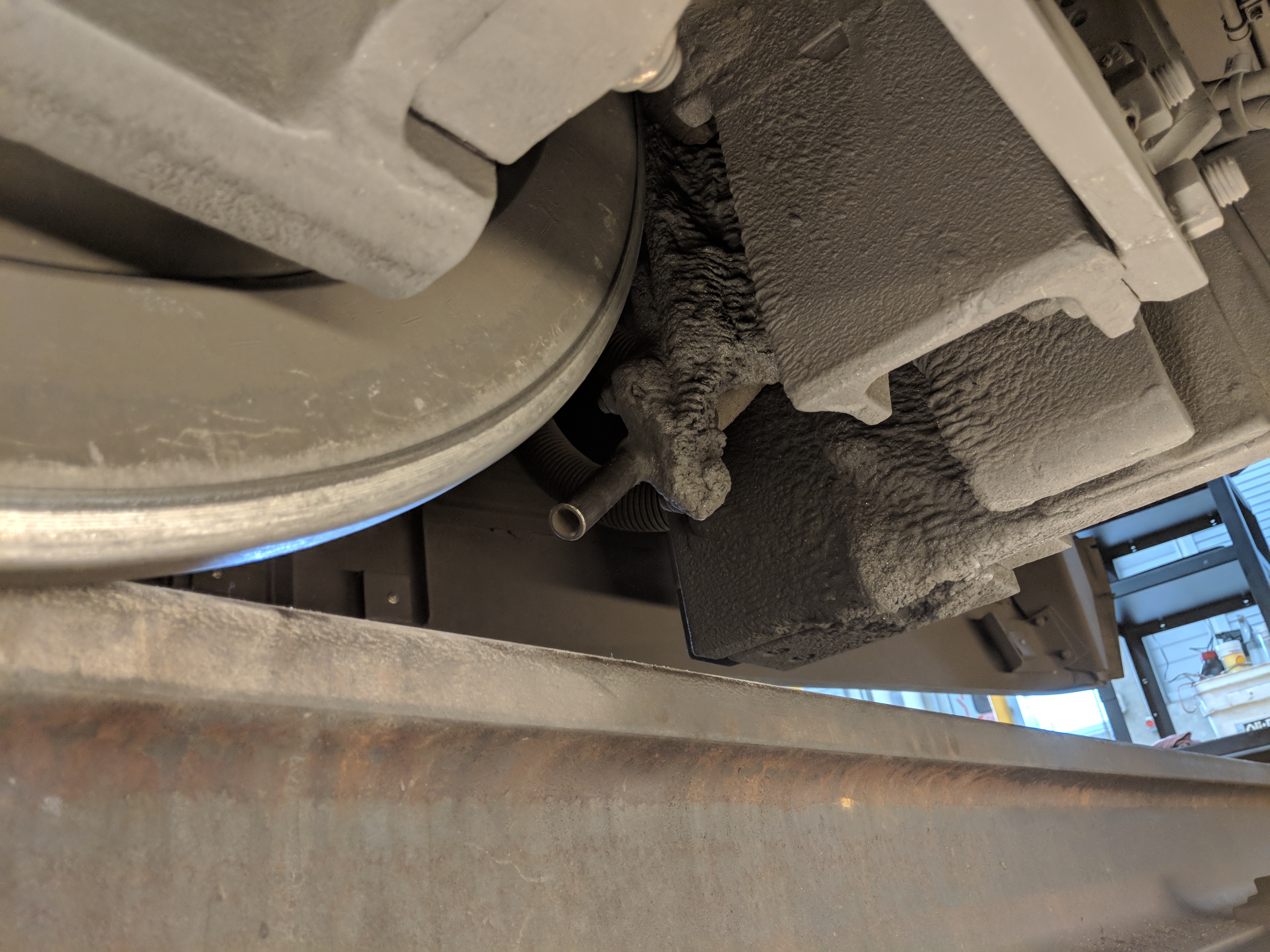 After the maintenance depot, we went to see the Transit  Control Center (for buses) and the Link Control Center. Unfortunately,  they did not let us take photos in these areas for security reasons, and it would be difficult to describe them without any visual aids.
Overall, I had a fantastic time on the trip to Seattle, and I feel so fortunate that I was able to learn so much to bring back to my own job in NYC. In October, my Seattle host will come and stay with me in NYC, and hopefully I will be able to make a Behind the Scenes post for NYC as well.