3 Years Later: Leatherman Skeletool CX Review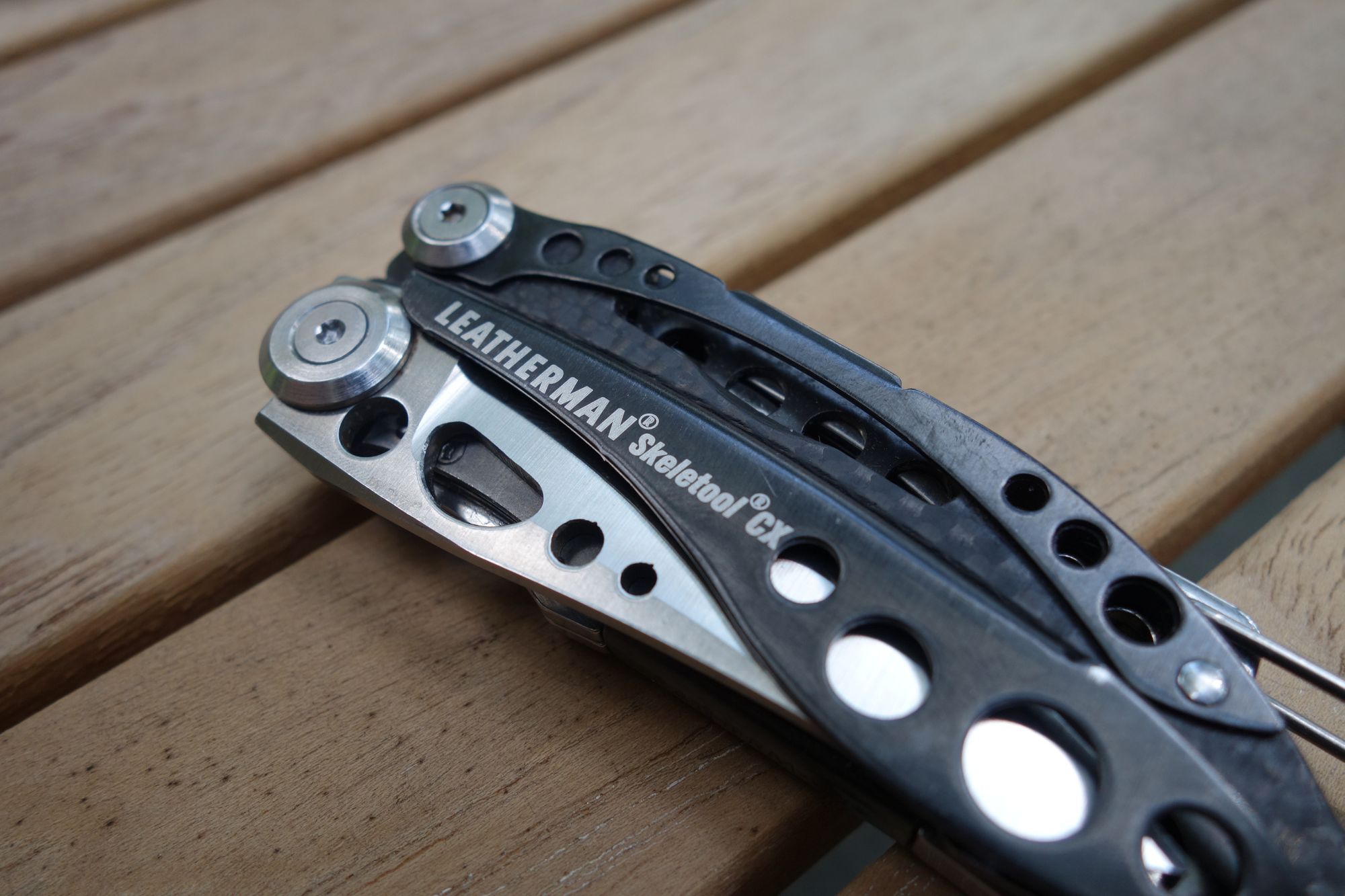 Back in my freshman year of college, I noticed that a lot of the engineering students carried knives or multi-tools. What a lot of people (myself included at the time) don't necessarily know is that carrying a multi-tool is actually really handy. While it's true that every now and then I run into someone who understandably finds the knife a little intimidating, I find having a bottle opener, knife, pliers, and flat-head screwdriver is incredibly useful.
First things first, you have to check into your local knife ordinance. A good example is Philadelphia. The state has fairly open knife laws, but Philadelphia has an old knife ordinance left over from 1968 when the city was dealing with a crime spree. The law is pretty vague, but in theory you can't even take home a chef's knife from the store (it's a cutting object) or else you get 90 days in jail and a $300 fine. So while I was willing to have it with me around the engineering department, I never took it into the city.
Getting back to the point, how do I feel about the Skeletool CX? In short, it's the pretty boy of the Leatherman lineup, and I love it.
The Review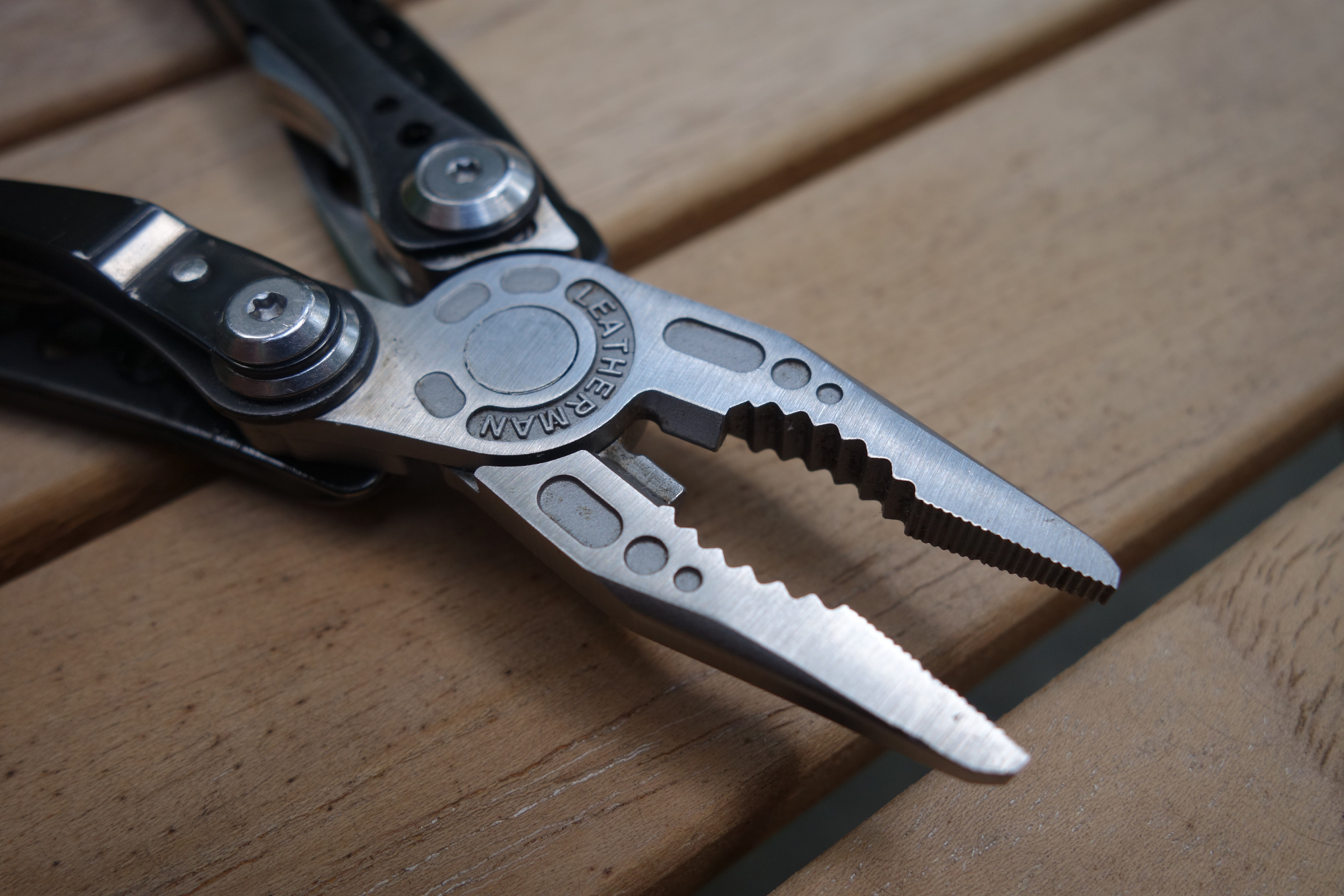 The Skeletool CX weighs a paltry 5 oz (142 g) and is 4 in closed (10 cm). The pliers and knife blade are made of 154CM stainless steel, which is pretty hard steel and fits right into this price range. While Leatherman doesn't specify the type of steel they use for the rest of the multi-tool, it is entirely covered in a carbon based coating. They call it DLC for Diamond-Like-Coating which is probably a little bit of an exaggeration, although it is very scratch resistant as you can see in the photos. The carbon fiber scale seems like a bit of a gimmick for aesthetic purposes, but it does feel nice in the hand and it sure looks good.
Pliers
Honestly, the pliers are probably the weakest part of the whole package. They are very skinny and I often find they slip when I am trying to pull on things (for example, pulling a staple out of a piece of wood). On both Amazon and Leatherman's website, reviewers complain that they have a tendency to break when you apply any real force to them. Thanks to Leatherman's 25 year warranty policies, you will only have to go without your multi-tool for a week or two, but it is still aggravating since most of their products do not have this problem. To be honest though, I still find myself using them because I do not feel like carrying around a 10 oz (~280 g) pair of pliers. Same goes for the bottle opener, and the flat-head screwdriver bit, although the wire cutters seem a little useless. The one-size-fits-all wrench is also fairly difficult to use and is useful almost only from removing the over-tightened cables from cable boxes.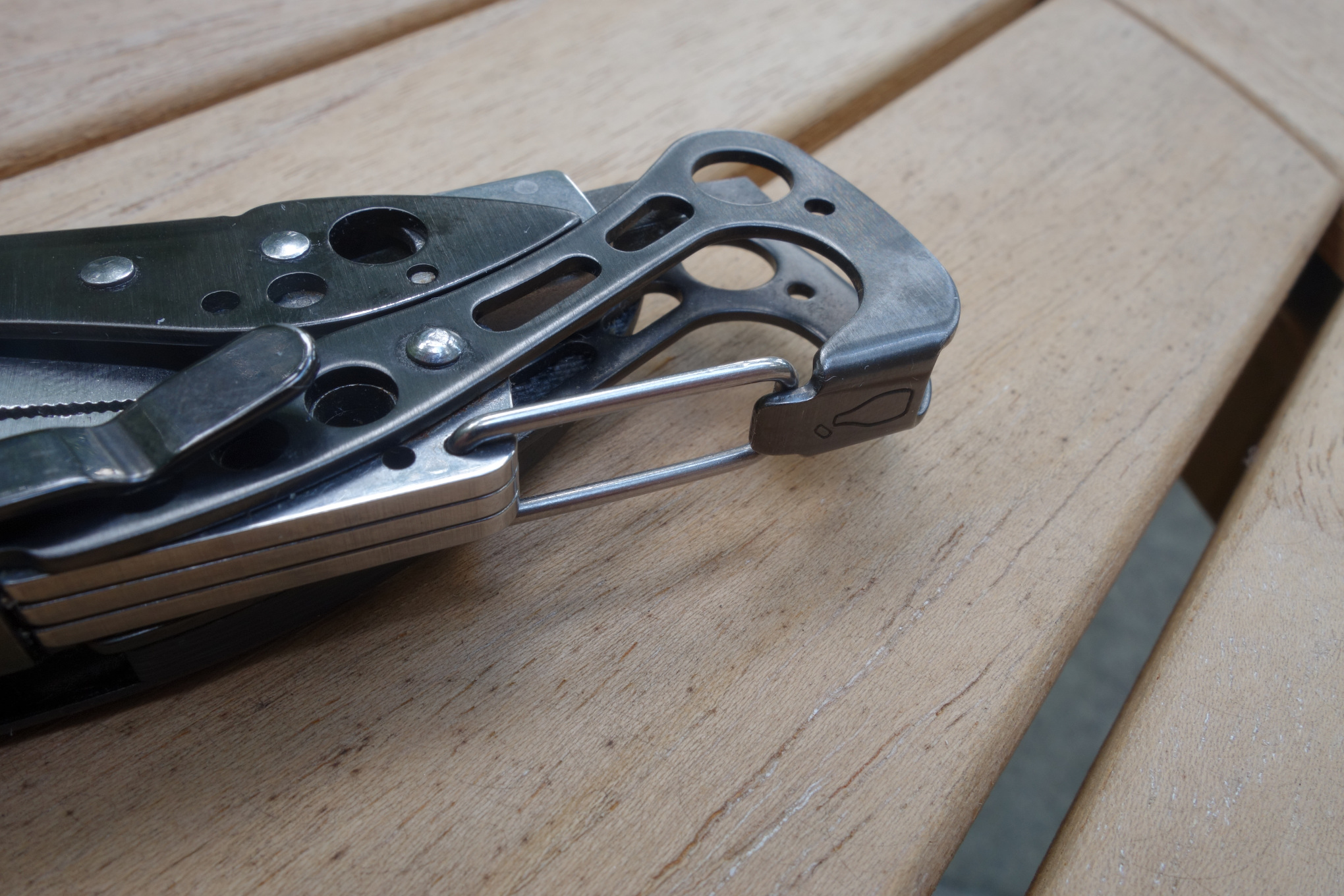 The bottle opener doubles as a karabiner clip and it functions much better as the latter. The bottle opener is not very intuitive, but a particularly sadistic side of me does enjoy watching people struggle with it before they give up and let me open their bottle. It's perfectly functional though, and I do almost always have it with me. I also love the little bottle opener symbol on it, which shows Leatherman was paying attention to the little details. Even if the opener itself does not work well.
Skeletool CX Knife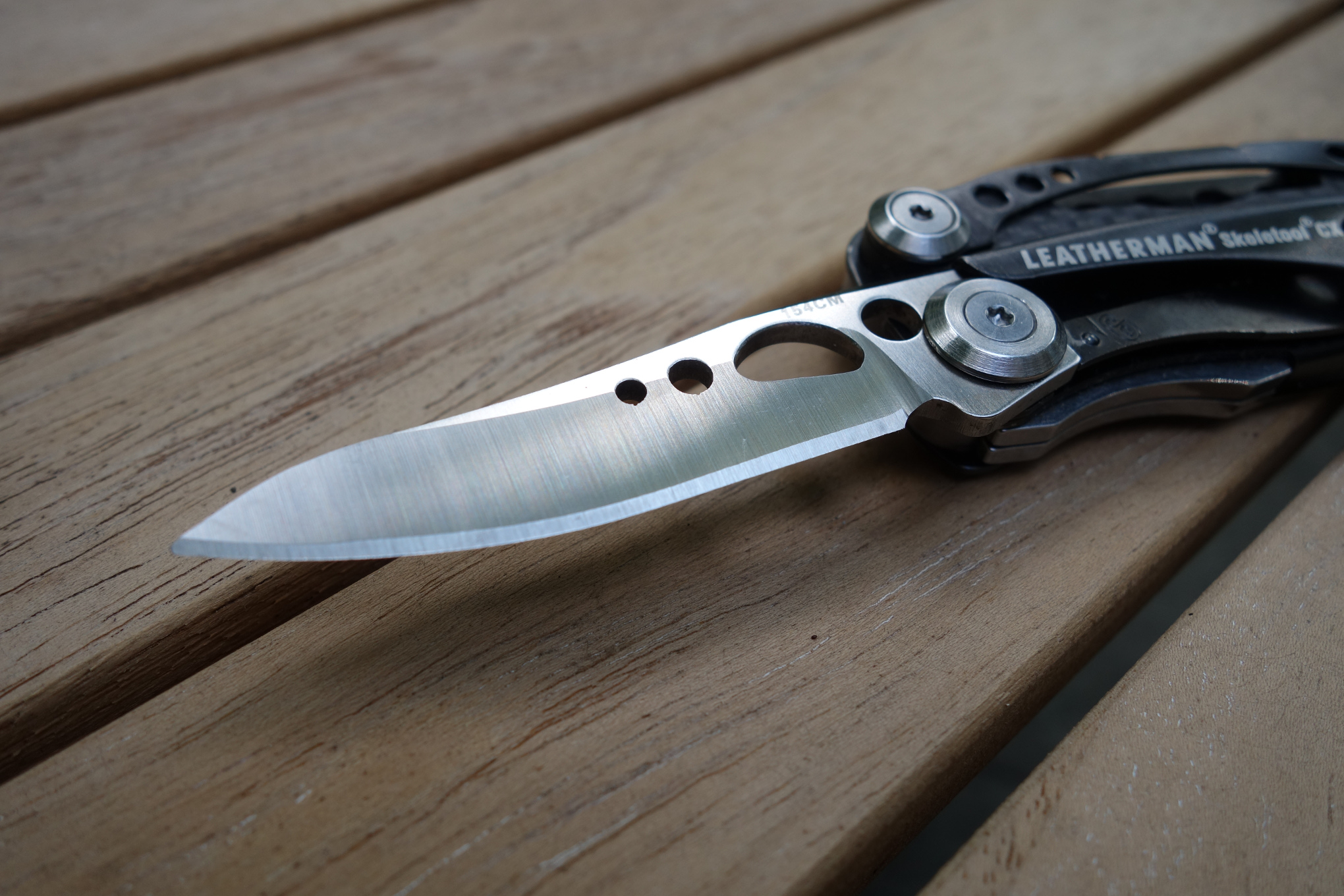 Other than the opener, the knife is definitely the part of the Skeletool CX that I use the most. It is 2.6 inches long (so legal to carry in your pocket in most of the US), and out of the box the blade was nice and sharp. It has held up to abuse pretty well, although the point broke off a while ago. As you can see, there is not even a hint of rust and very few scratches. I carried the knife about 3/4 of the time for the last three years. Usually I used it for opening boxes or cutting fruit, but it held up to wire stripping and wood whittling every now and then as well. Even after three years and some mineral oil, the knife still does not open that smoothly and never has. Though if you are right-handed, you can definitely operate the blade with one hand.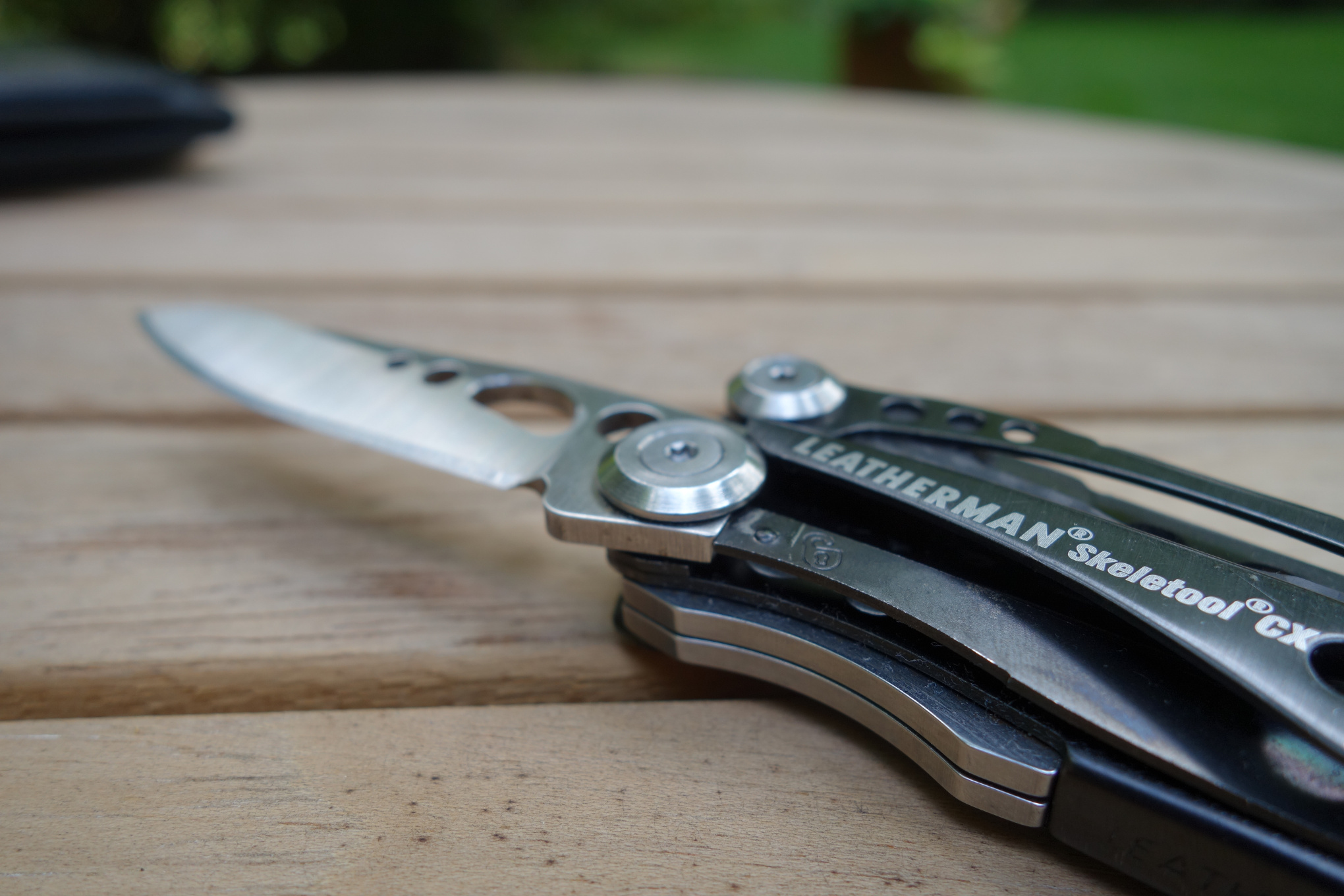 The blade lock is very solid, and I have never worried about it closing under pressure. It uses a liner lock, which uses a heat treated bar that springs up to hold it in place. Like the bottle opener, you can see the little unlock symbol that is supposed to signal you have to press it down to close it. The little ball you can see is what keeps the blade from opening in your pocket and is also very trustworthy. The one warning I have is that even with your thumb at the very top pressing down where the ball is, it is very easy to close the blade on your finger. I have several friends (4 or 5) who closed the knife on their fingers because I forgot to warn them to be careful.
Bit Driver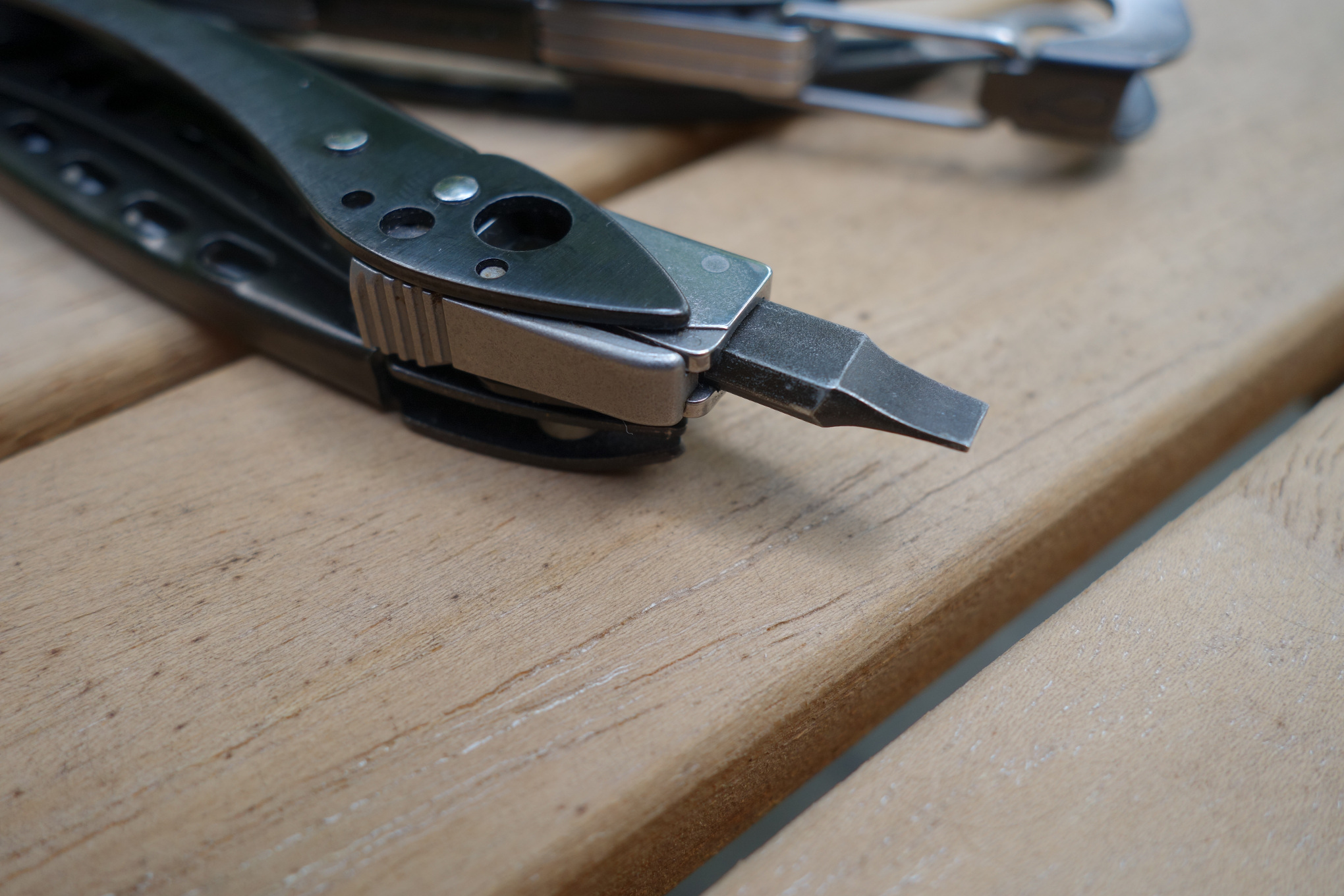 The Skeletool CX comes with two reversible bits that have two tips on each. One has a larger and a smaller flat-head and the other has a large and small Philips head. I find the flat-head actually works very well for prying things apart, especially since you do not want to put the blade through that stress. The bit driver is pretty large around, which means you cannot screw anything that is very recessed. The flatness of the individual bits means that the Philips head does not always fit perfectly in a Philips screw either, so it ends up slipping out which can also be a little annoying. Regardless, I find myself using the flat head bit all the time for a variety of tasks. I cannot tell you how many times I forget to bring a flat-head screwdriver when I am using a staple gun and need to remove some staples when I inevitably screw up.
Random Details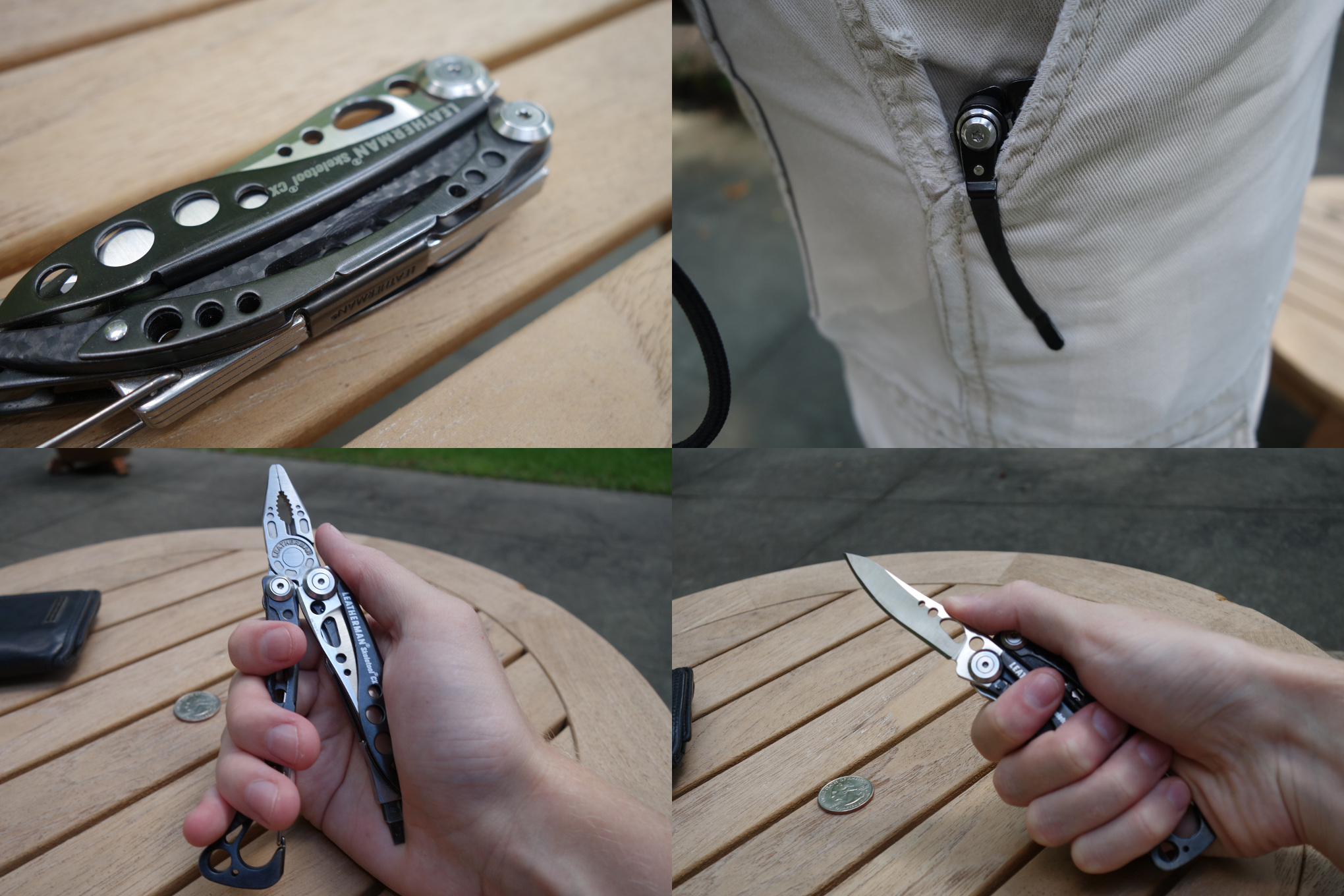 Do you see in the top left how the bit storage is empty? I lost two bits to that storage space before I learned my lesson. When you take the knife out of the package, it is stiff enough to keep the bit in place, but after about three months the bit started falling out in my pocket. I stopped using it a long time ago. The pocket clip is perfectly adequate, and the Skeletool CX does not show out of your pocket too much if you happen to like wearing your multi-tool that way. The bottom two photos show the grip for the pliers and the knife. The Leatherman is a little on the small side for my enormous hands (I usually wear an XL glove), but it is firm and sturdy unless you are really stressing the pliers.
Bit Kit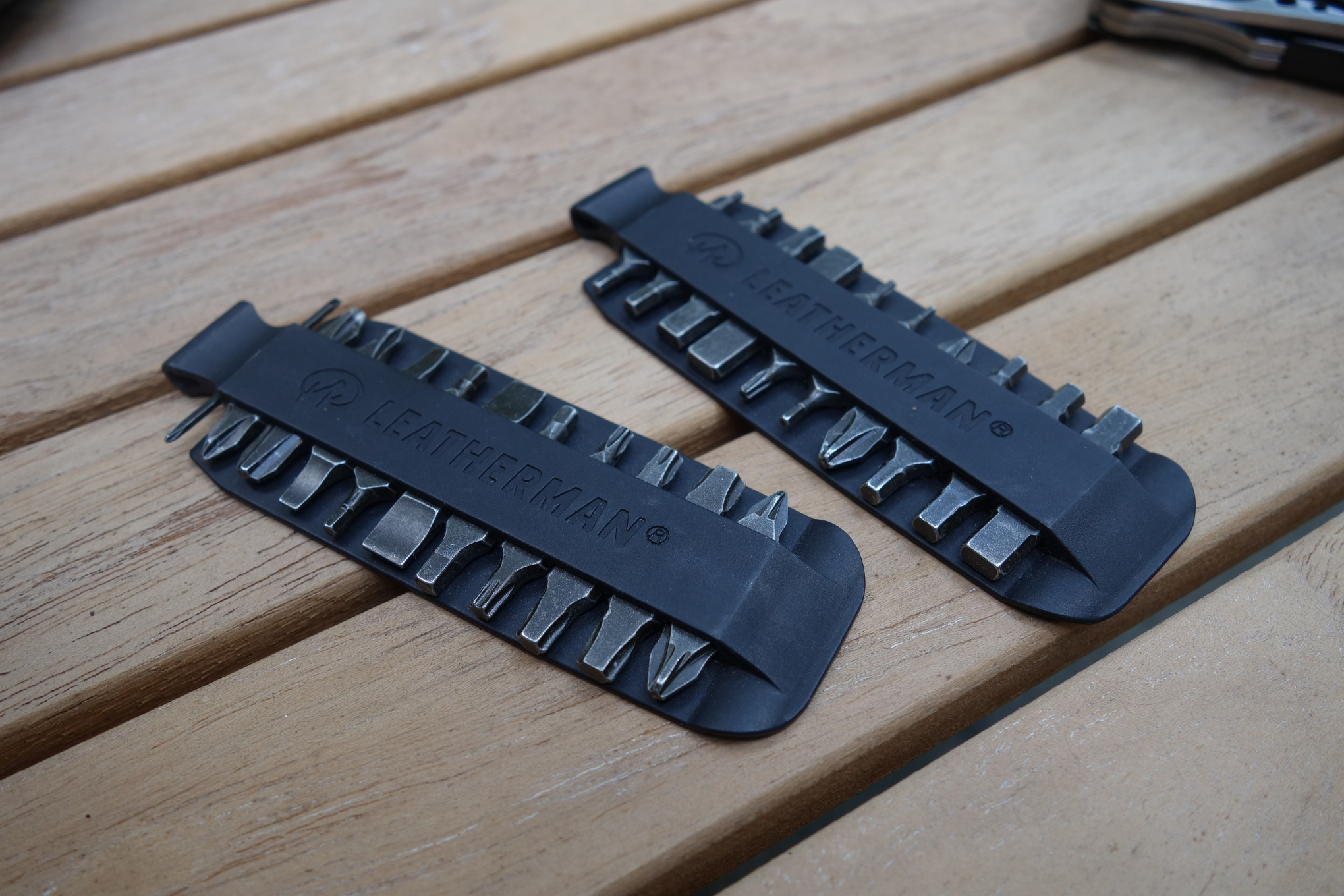 Finally, I also purchased the separate Leatherman bit kit. It comes with everything you see in the photo above which is a good mix of Philips, flat-head, square, hex, square, Torx, and even an eyeglasses screwdriver. The bits stay in the holders solidly although it is not hard to get them in and out. I have never encountered a case where the bits started to strip before the screw did thankfully. Are they high quality great bits though? No. Do they work in a pinch, especially when you cannot find the Torx bit for your ratcheting screwdriver? Yes. They are very good for long trips, since they are very compact and light. After all, you do not want your bike to break down 10 miles from home with no way of fixing it.
Closing Thoughts
When I got the Skeletool CX, many of my friends poked fun at it because it did not have 38 different tools and because Leatherman clearly considered aesthetics when they made it. Despite that, even after all of these years it is still one of my best purchases. Sure, a lot of the tools have some small compromises. There are times I wish the bottle opener was a little bit nicer. There are times I wish the wire cutters could do anything except gather rust. I also really wish Leatherman had a bit with a flat-head on one side and a Philips on the other. Really though, even if you are not an engineer or handyman, the Leatherman Skeletool CX is a fantastic lightweight multi-tool.